Sukiyaki Stewed Beef with Shiitake, Chili Padi and Rice Vermicelli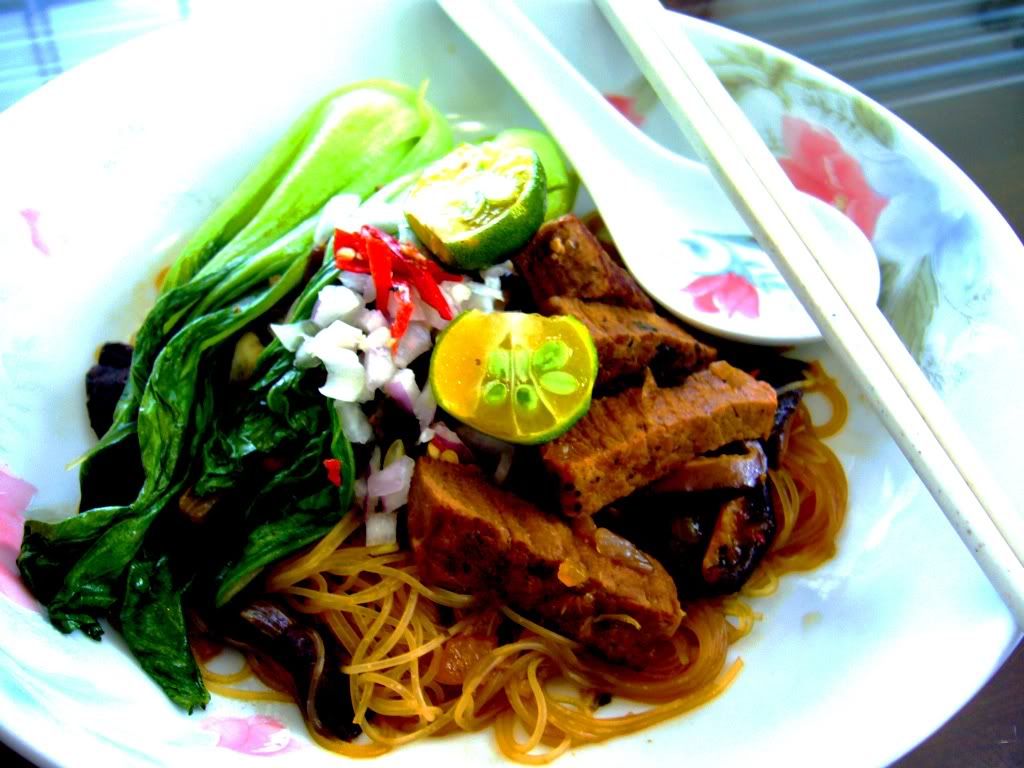 Today I am fusing the deep and rich flavors of
sukiyaki
sauce with the spicy and zingy array of Thai ingredients, mainly raw onions,
chili padi
and mandarin lime. This is all to please my increasingly adventurous palate.
Nothing kicks your ass to absolute soberness like one fierily tight bitch slap from a petite and seemingly impeccable bite of Chili Padi. I got whacked, hard, but what came after was gastronomically sadomasochistic satisfaction. Food porn. Mmm.
I stewed the beef in hopes that the flavors from the sukiyaki will infuse into the core of the meat, in attempt to make every bite a tremendous burst of wonder. I was wrong. The sauce didn't actually seem to go well with a chewy well done beef, however, I strongly believe that a thinly sliced Carpaccio would just do justice. So if you're gonna make this, disregard the chunky slices of beef you see in the picture and substitute for the paper thin ones as listed on the recipe.
I found some Carrot
Rice Vermicelli
at the local supermarket yesterday and I thought I'll give it a shot with that. Not that it would taste better but it's just for the sake of experimenting.
The result wasn't anything spectacular at all, they had a very slight hint of carrot but ultimately, they taste pretty much like regular rice vermicellis. Stupid marketing deceptions.
Mise En Place
Serves 2
150g Sukiyaki Beef or Paper Thin slices of Beef Fillet
100ml Sukiyaki Sauce
1 Red Onion, diced
1 Root of Young Ginger, sliced
3 Bird's Eye Chili, Julienned(seeds removed if you can't take the heat!)
2 Mandarin Limes, halved, for garnish
2 servings Rice Vermicelli, soaked in hot water for 2 mins, drained
4 Bundles of Pak Choi, washed
a Handful of Chinese Dried Shiitake, soaked in hot water for 15 mins, drained
2 Tbsp Dark Soy Sauce
300ml Beef Stock
White Pepper
1 Tbsp
Shaoxing Wine
2 Tbsp EVOO
- Saute half the onions, half the chili and ginger in EVOO for 5 mins.
- Add Shiitake and pepper, saute for further 2 mins.
- Add Shaoxing wine and simmer for 5 mins.
- Pour in broth and soy sauce and bring up to a boil.
- Add vermicelli and pak choi and simmer for 5mins.
- Turn off heat and throw in Beef.
- Transfer to bowl, garnish with remaining onions, chili padi and lime. Serve.
- To enjoy, squeeze lime over before tucking in.