If there's one word to describe the local food here in Singapore, it would be tasty. Almost every dish is perfectly seasoned, without fail. To the palates of the majority of local folks who had inhabited in this island for their entire feeding life, good food is enjoyed hot, spicy and salty. However, to the people who open their palate horizons to the different cultures and lifestyles, a consistent lack of unadulterated flavor has always been conspicuous. But they can be really enjoyable nonetheless, with beer.
This is a new section of my blog that will be put up occasionally for the curious to have a cultural glimpse of the native food offered to the masses in Singapore. So keep checking back for more. Enjoy.
Duck Rice, Yaar Funt(Mandarin), Arr Png(Dialect)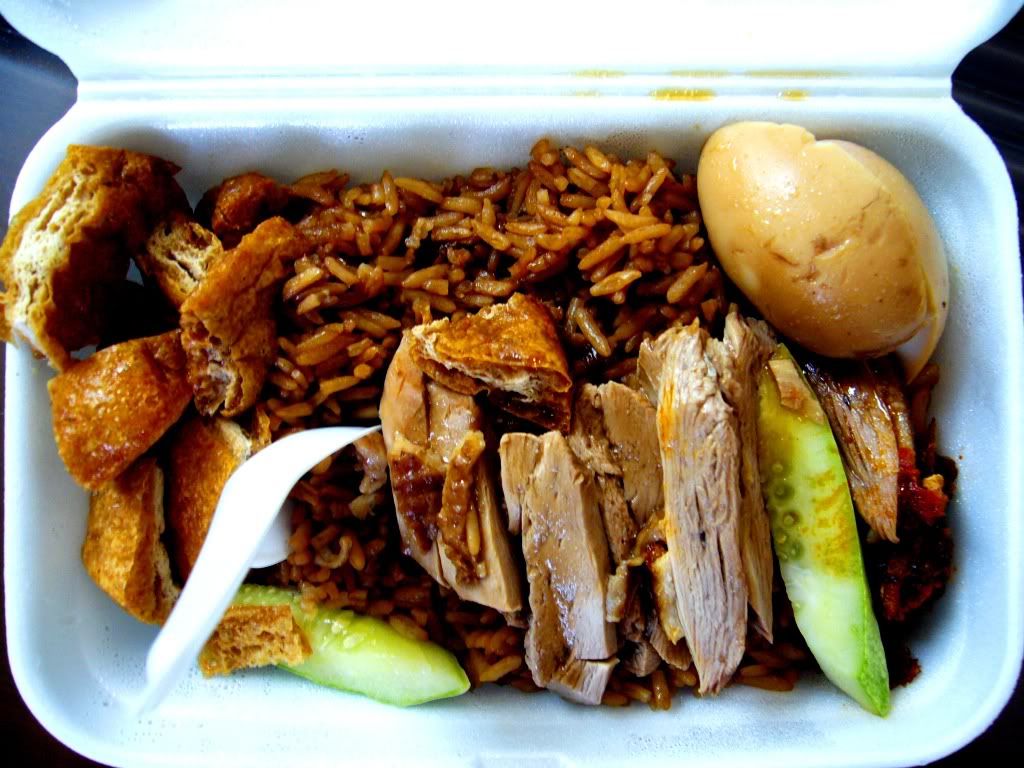 So you feel like having duck rice, the shop uncle unhooks one of the many already hung braised or roasted ducks and chops the shit out of it. He scoops a bowlful of brown and seemingly delicious steamed rice and slams it on a styrofoam lunchbox. Wham! Out comes battalions of tiny little yummy soldiers nicely molded by the interior of the bowl. Before you thought you could spent a little more time admiring the perfectly shaped scrummy, he disfigures it with his plastic scrapper and slaps the chopped duck onto it. He asks if you want something else to go with the rice and points to the bottom area of the hung ducks where the braising jus was dripping. Laying there are a variety of delectable novelties mainly, Lor Nng(Braised Egg), Tau Pok(Dried Bean Curd Filo), Braised Duck Liver, Kidney and Tongue. He grabs your selection and dumps it into the box with a pathetic teaspoon of Sambal(more about this in awhile). You ask for more and he very reluctantly adds half a teaspoon to it. You feel like stuffing it up his nose but then again your grumpy stomach couldn't wait anymore. He says "4 dollars," then you grab the box, throw the money on the table and run to the nearby bench to enjoy the tasty bugger. You open the lunch box and the aroma fills up your nostrils, you shaft a spoonful of duck rice into your already aroused entry and the image of that shabby bastard slowly fades away.
Tau Pok, Braised Dried Bean Curd Filo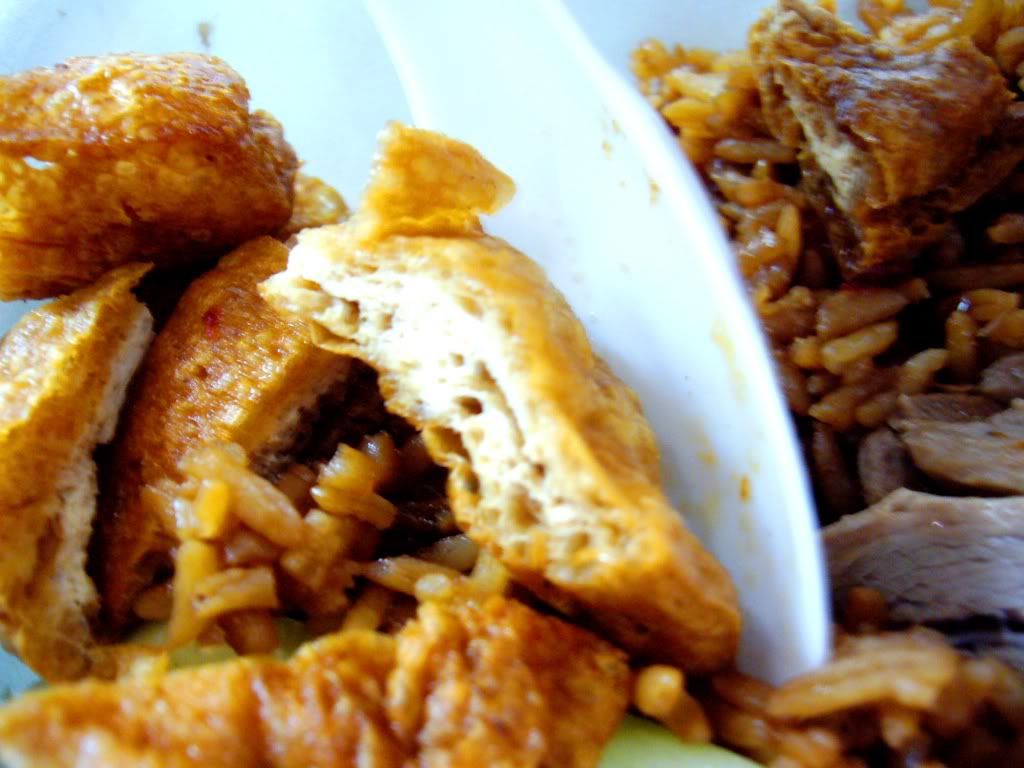 I would call this a sponge. It soaks up all the braising jus making it chewy and juicy at the same time. Pretty enjoyable. But the bad thing is when the jus is salty, then it feels like you're downing sea water with every bite.
Braised Duck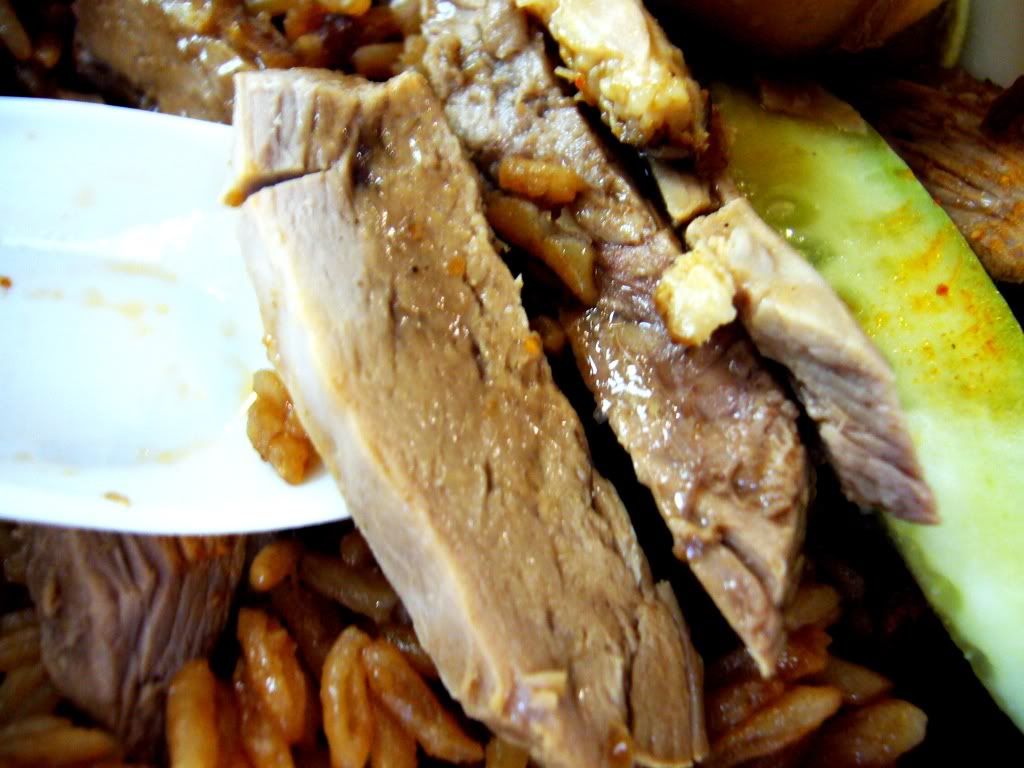 Usually, there is an option of having roasted duck instead of a braised one, the roasted duck is usually done in a mundane manner where skin would be crisp ad salt will be all over. The braised one is more interesting fo sho.
This one here is good. Tender and wholesome with hints of cinnamon and star anise. Yum.
Lor Nng, Braised Egg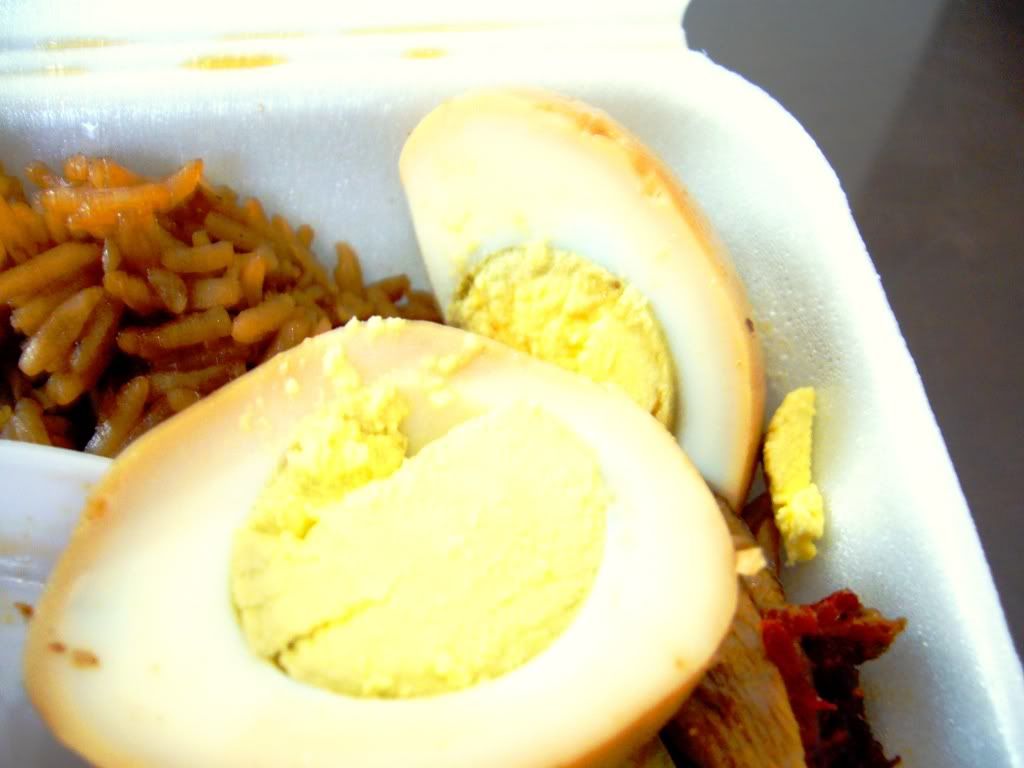 The egg is hardboiled, shelled then thrown in a smelting pot of braising jus to cohabit with the rest of the novelties. They normally taste like ordinary egg but good ones have quite a bit of duck flavor with it.
Yam Rice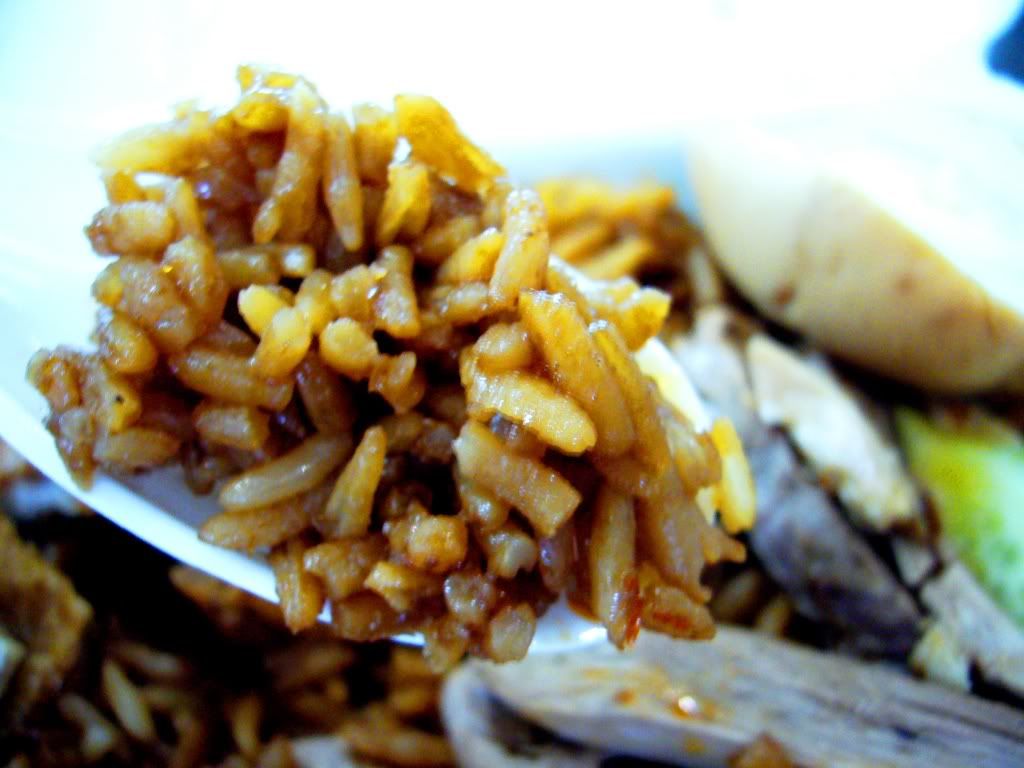 There is an option of having plain white rice as well, but the yam rice was smelling terrific. However great the aroma would be, it would be untraceable when it is in the mouth. It's just stupid sometimes. The rice is fried with shallots, yam and dried shrimps before steaming.
Sambal, Grounded Chillies with Anchovies, Sugar, Garlic and Spices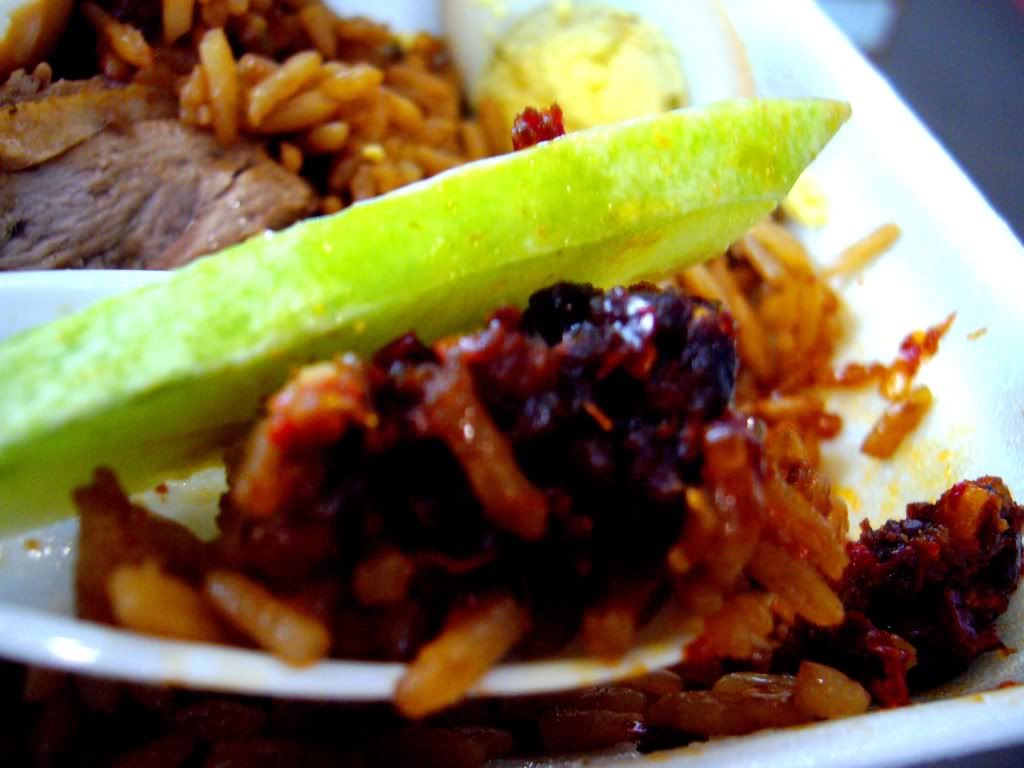 Spicy, sweet and salty. Usually on the spicy side, the cucumber slice is there to balance the heat. Goes really well with the rice and duck.