I love sausages, I mean, who doesn't? The globally appreciated savory thing appeared in my mind out of nowhere like teleporting superhumans from retro sci-fi flicks. It was disturbing, especially when I was checking out the hot lady in bikini across the pool. And as always, I felt the desirable urge to pimp the living prosaics out of normal everyday food that comes to my mind. So I frolicked the wiki site for quite a bit and just when I thought it was a stupid idea, the skies parted and the holy lights hit me.. Bzzk...

BANGERS AND MASH.
"bangers and mash is a British colloquial name for sausage (bangers) served with mashed potatoes. The sausage may be one of a variety of flavoured sausage; such as pork, pork and apple, tomato, beef, Lincolnshire, or Cumberland.
The dish is usually served with a rich onion gravy."
Herb Roasted Sausages, Nori Wasabi Potato Mash and Insalata di Rucola con Pomodoro with Gravy of Sauteed Onions and Red Wine Reduction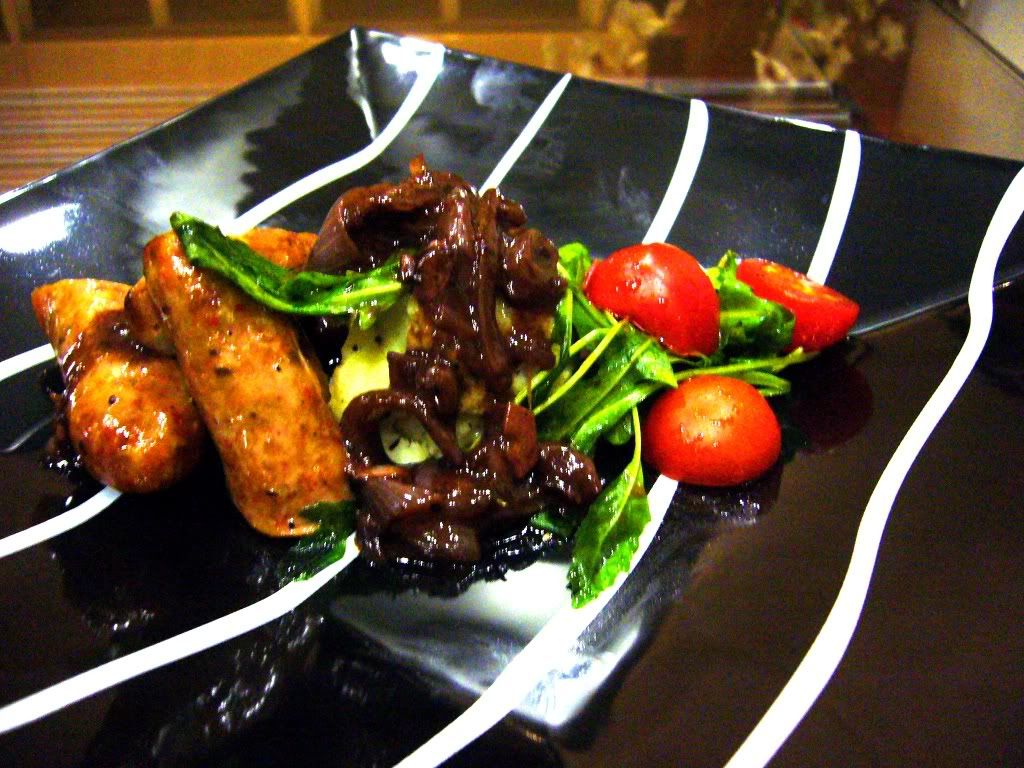 As you can see, I clearly overdid it at the pimping department, there was a little British-American influence on the sausages, a little Japanese with the potatoes and a little Italian with the salad. If there would ever be a dish to signify the U.N, this would be it. Evidently, the salad is the alien, in accordance with the wiki description. The little side of salad was my idea, I thought it would be refreshing and hopefully accommodating, something to balance out the heaviness of the dish, so without the slightest hesitation, I shafted that in.
To my pleasant surprise
, it went really well altogether. It was flavorful, savory, tasty, rich, creamy and refreshing all at the same time and that sausage, oh that sausage - all crispy on the outside juicy and chewy in the inside. I thought this was good enough to pass off as one of the brunch menus in my secret professional repertoire X, but hell I'll just trade it over for some culinary karma.
Mise En Place
Serves 2
For the roasted Bangers:
4 Cumberland or Italian sausages(Bratwurst works well too)
8 sprigs of Rosemary
4 large Sage leaves
2 bulbs of garlic, halved
Sea Salt & Black Pepper
EVOO
Onion Gravy:
1 large red onion, sliced
1 clove garlic, sliced
100ml dry red wine
200ml chicken stock
50ml balsamico aceto
2 Tbsp dark soy sauce
1 Tbsp crushed red pepper
1 stick of unsalted butter
White Pepper
1 Tbsp cornstarch
Potato Mash:
6 medium Désirée potatoes, peeled
3 Tbsp Nori Flakes
2 Tbsp Wasabi or grated horseradish
1 stick of butter
100ml full cream milk
Sea Salt and Black Pepper
Insalata di Rucola con Pomodoro
handful rocket leaves, washed and spun dry
handful cherry tomatoes, halved
20ml EVOO
20ml Balsamico Aceto
Sea Salt and Black Pepper
- Preheat the oven to 400°F/200°C/gas 6.
- Throw potatoes in salted boiling water.
- Saute onions, red pepper and garlic in butter for the sauce.
- When onions turn transparent, pour in wine and balsamico. Reduce for 15 mins over medium heat.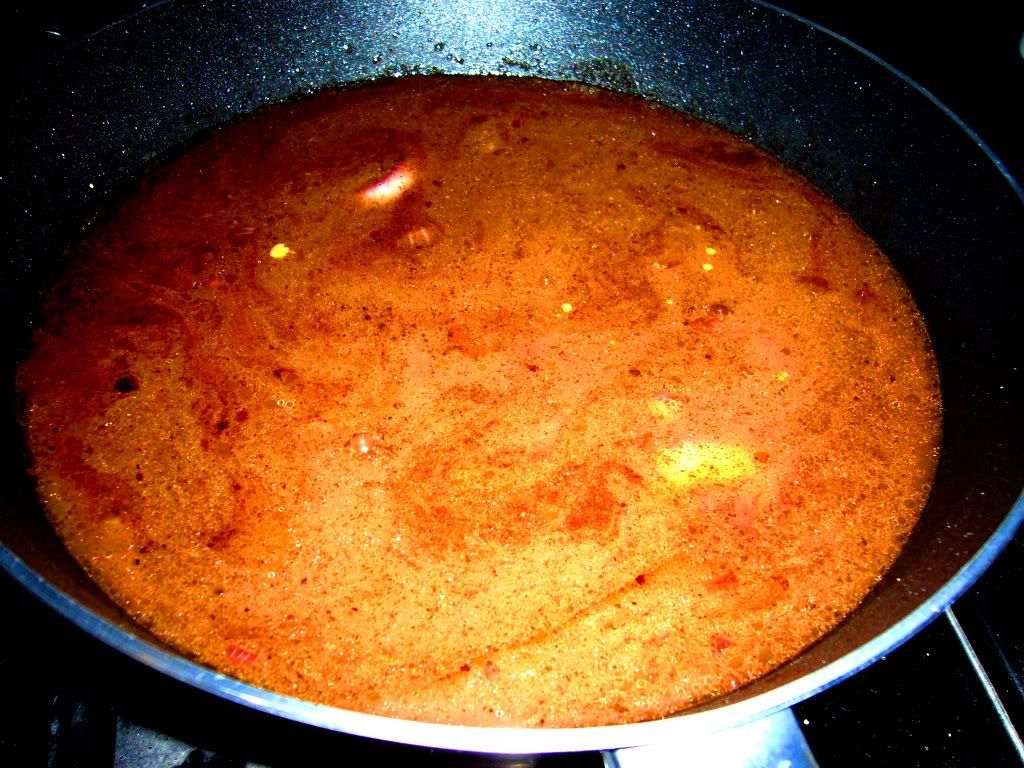 - Add stock and dark soy and simmer until reduced to 1/3. Stir in cornstarch. Keep warm.
- Slit sausages on one side and stuff Sage leaf in.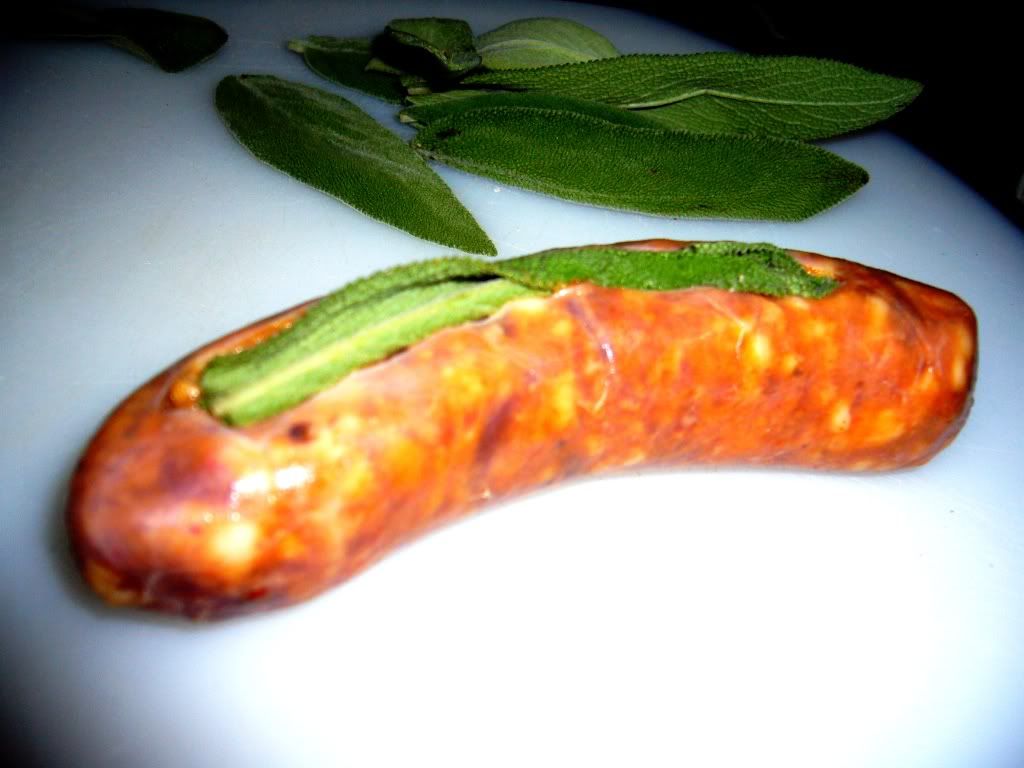 - Oil baking tray with EVOO and scatter Rosemary and Garlic.
- Rub sausage with EVOO, salt and pepper. Toss with Rosemary and Garlic on baking tray.
- Roast sausages for 15 mins or until al dente.
- Meanwhile, the potatoes should be ready. Drain and transfer to bowl. Pass it through a food mill or mash it up good.
- Immediately throw the rest of the mash ingredients in and incorporate. Note that you have to do this while it's piping hot. Season to taste.
- Mix all insalata ingredients in a bowl and toss.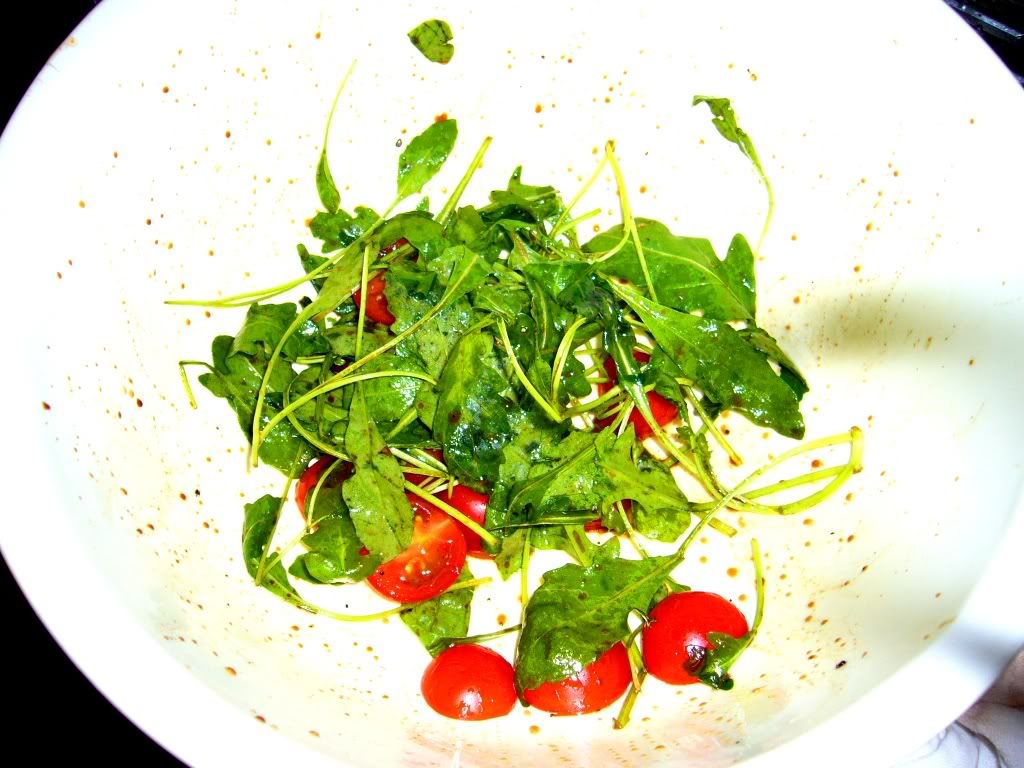 - To serve, dollop some potato mash on the plate and lay your bangers on it. Spoon in onion gravy and place a serving of the insalata by the side.
Enjoy.
I wouldn't have bangers and mash without a salad ever.