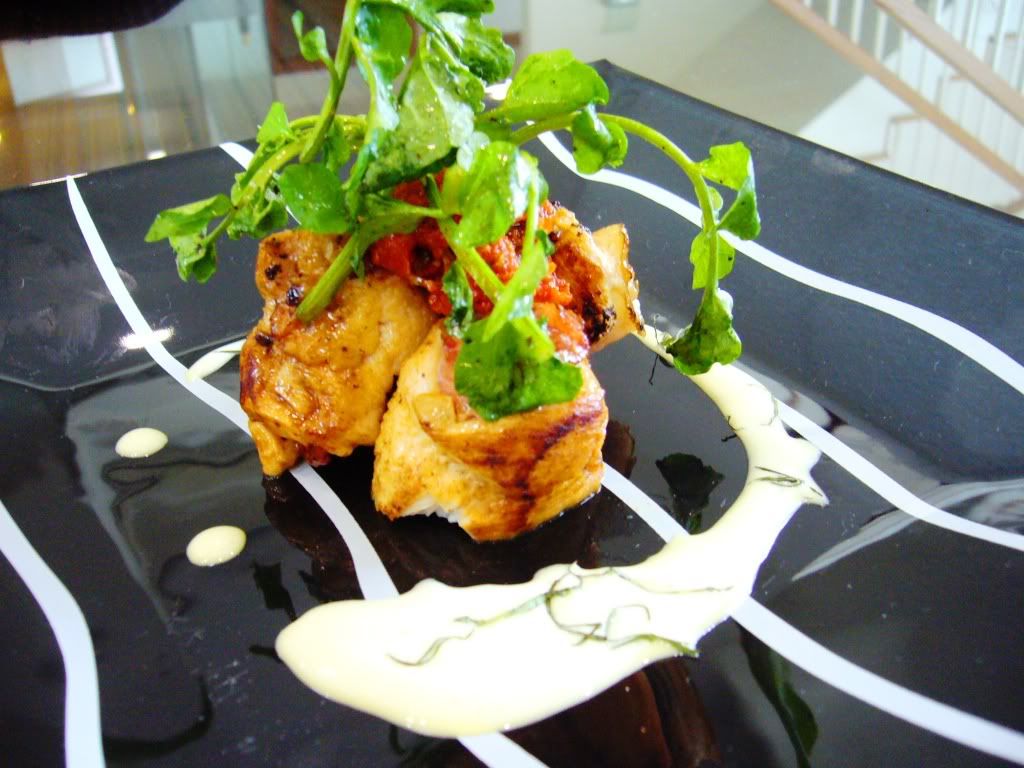 An original recipe from a sudden flow of thoughts during a Sunday coffee chat proved that cooking can be done in the head. After multiple jolts of caffeine and nicotine supplementation, the brain will be analyzing things on its own. In my case, it was piecing out a formula for a subtle yet incredibly flavorful dish.
If you have tried Saltimbocca, you might be thinking along the lines of veal or another game meat, something heavy but also very robust and tantalizing. So I attempted to refine it, inside out.
I used Chicken, a lighter meat, coupled with a delicate garlic aioli and a hearty marinara, all topped and completed with a peppery watercress salad.
Mise En Place
Serves 2 lucky people
Saltimbocca
3 Boneless Chicken Fillets, skinned
3 Slices Prosciutto di Parma
3 Tbsp Grated Parmesan
1 Clove of Garlic, grated
a Sprig of Thyme
Juice of 1 lemon
3 Tsp Corn Starch
200ml Chicken Stock
100ml Dry White Wine
Sea Salt, Black Pepper
a Knob of Butter
Garlic Aioli
5 Cloves of Garlic
a Handful Italian Parsley
100ml E.V.O.O
1 Egg
Juice and Zest of 1 Lemon
Sea Salt and Black Pepper
Marinara
200g Roma Tomatoes, Pureed or Minced
3 Large Basil Leaves, Torn
3 Cloves Garlic, Crushed
1 Shallot, Minced
Small Handful Grated Parmesan
E.V.O.O
Watercress Insalate
a Handful of Watercress, Washed in Cold Water, Spun Dry
1 Tbsp Balsamico or Lemon Juice
50ml E.V.O.O
Sea Salt and Black Pepper
Garnish:
Basil, Thinly Sliced
- In a food processor or pestle and mortar, blend all ingredients for the aioli except the olive oil until smooth. Transfer to bowl and whisk in olive oil drop by drop. Season and refrigerate.
- Heat oil in pan, saute garlic and shallots until light brown. Pour in tomato puree and scatter basil leaves. Mix well and simmer 10 mins uncovered. Turn off heat and stir in parmesan. Season and set aside to cool.
- Sprinkle Chicken with S.&P., Thyme, Garlic and Corn Starch. Tenderize them with a pounder or pestle. Make sure they are of at most 1mm in thickness.
- Lay Prosciutto on top of each already flattened chicken. Roll them up tightly into cigars, secure with cooking string or toothpick.
- Sear the chicken with butter on all sides until golden brown in a hot griddle pan.
- Pour stock, wine and lemon juice into the pan and reduce until liquid dries up. Set aside.
- Dress watercress with E.V.O.O, salt, pepper and balsamico. Ensure that the watercress is completely dry before you dress, otherwise you'll have a soggy salad.
To plate, lay Saltimbocca, drizzle aioli, spoon marinara on top and drop the insalate . Finish it off with shreds of basil on the aioli.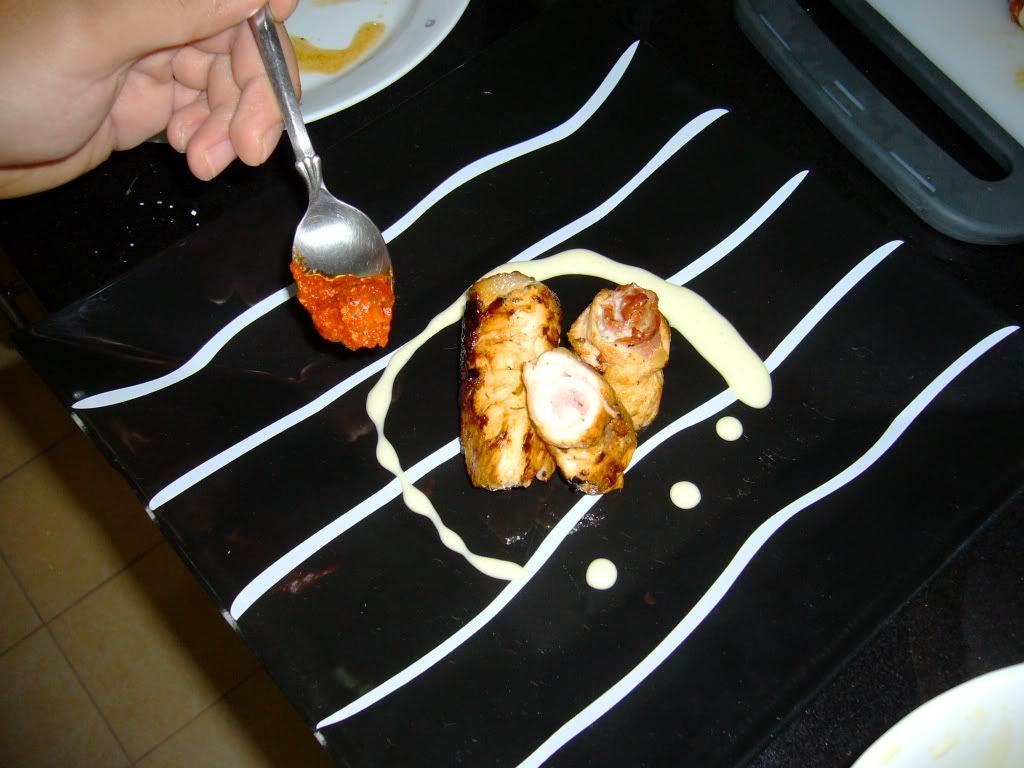 Hope you enjoyed it. :) Bon Appetit.