Minced Pork Ma-Po Tofu Ramen with Dou Miao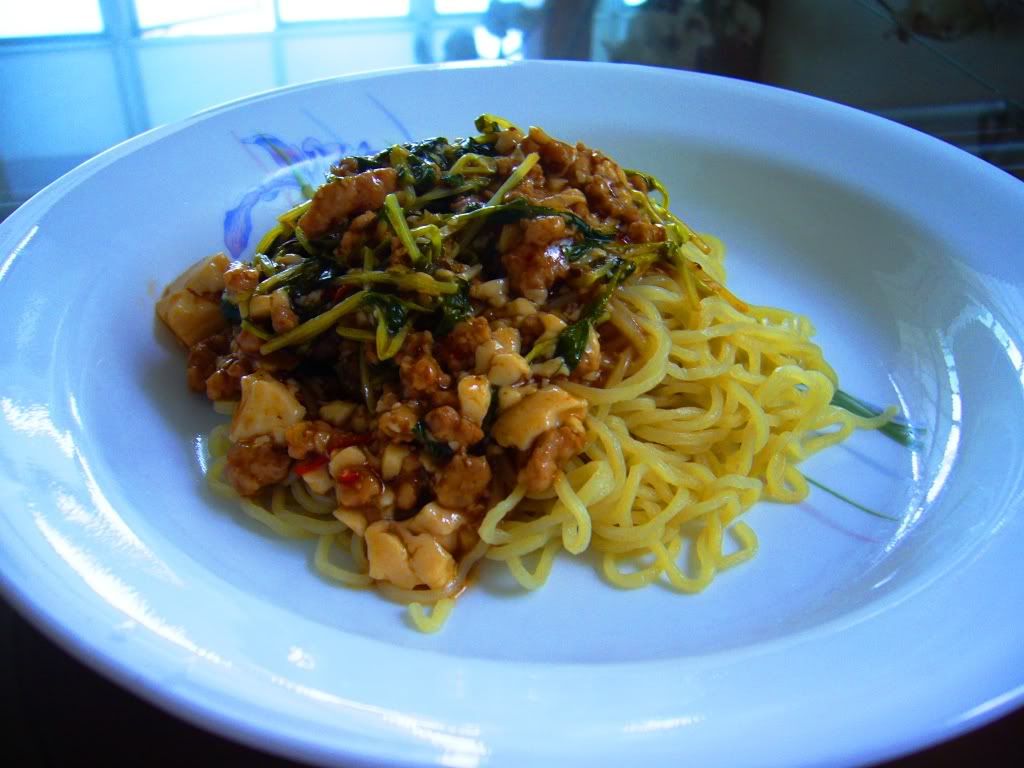 It's hardly I cook Chinese, mainly because it is everywhere in my country and that made western cuisines seem so much more interesting. Having enough of pasta, fries and butter, I find myself crawling back to my roots only to realize that my culinary knowledge of Chinese was
meager
. After all, I believe we need a balance of everything.
So very secretly, for the past weeks(2 to be exact), I've been studying a couple of recipes from deep east. It wasn't easy. Especially when Chinese techniques were the complete vice versa from French ones and some don't even make any sense. Very secretly again, I've been experimenting with the techniques for quite some time already and can only come to a conclusion that there is no theory in Chinese cooking, only trial and errors. I must admit, some dishes are really really amazing, like Peking Duck and Dong Po Pork. Trials and errors from the
continent of
1,321,851,888
. Quantity power.
After 5 hours of thinking and studying on a certain lonesome night in the army, I came up with this dish. Fantastic stuff. Felt like I'm standing firm on my roots again. Don't believe me? Try it yourself :)
Very briefly,
Mise En Place
Serves 4
200g Minced Pork
4 Ramen servings
5g Garlic, Minced
5g Shallots, Minced
5g Ginger, Minced
5g Bird's Eye Chilli, Minced
5g Dried Shiitake, Soaked in water for an hour, Minced
1 BlockSilken Tofu, Diced
1 handful Dou Miao, Cleaned
5g Scallions, Minced
100ml Chicken Stock
1 tbsp Oyster Sauce
2 tbsp Cornstarch, dissolve in hot water
2 tbsp Soy Sauce
2 tsp White Pepper, powdered
2 tbsp Sugar
2 tsp Chinese Preserved Cabbage
1 tbsp Black Bean Paste
1 tbsp Spicy Bean Paste
1/2 cup Shaoxing Wine
1/2 cup Chinese Black Vinegar
1 tbsp Sesame Oil
100ml Corn Oil


First get your wok or pan to medium and drizzle in the corn oil. Saute garlic, shallots, ginger 5 mins.
Add pork, chilli and wine. Saute 10 mins.
Get pot of salted water boiling for ramen.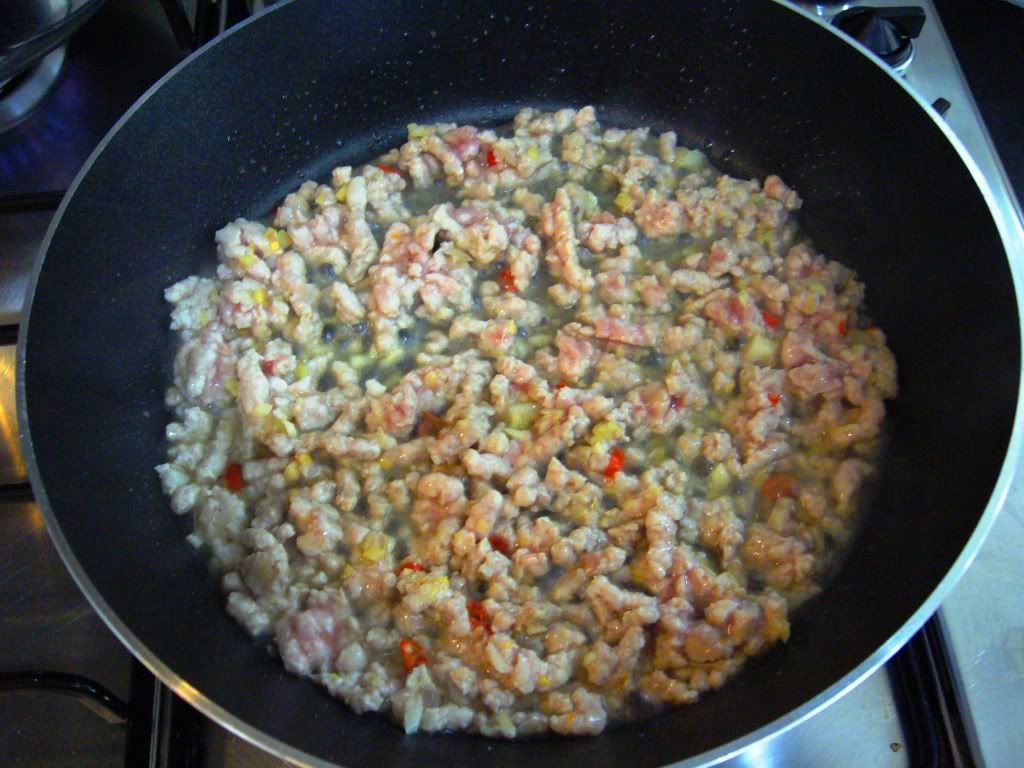 Add black and spicy bean paste, oyster sauce, shiitake, scallions, sugar, preserved cabbage, chicken stock, cornstarch reduce 5-7mins, stirring often.
Cook the Ramen and drain.
Next throw in Dou Miao, soy sauce, sesame oil, tofu saute until dou main wilts.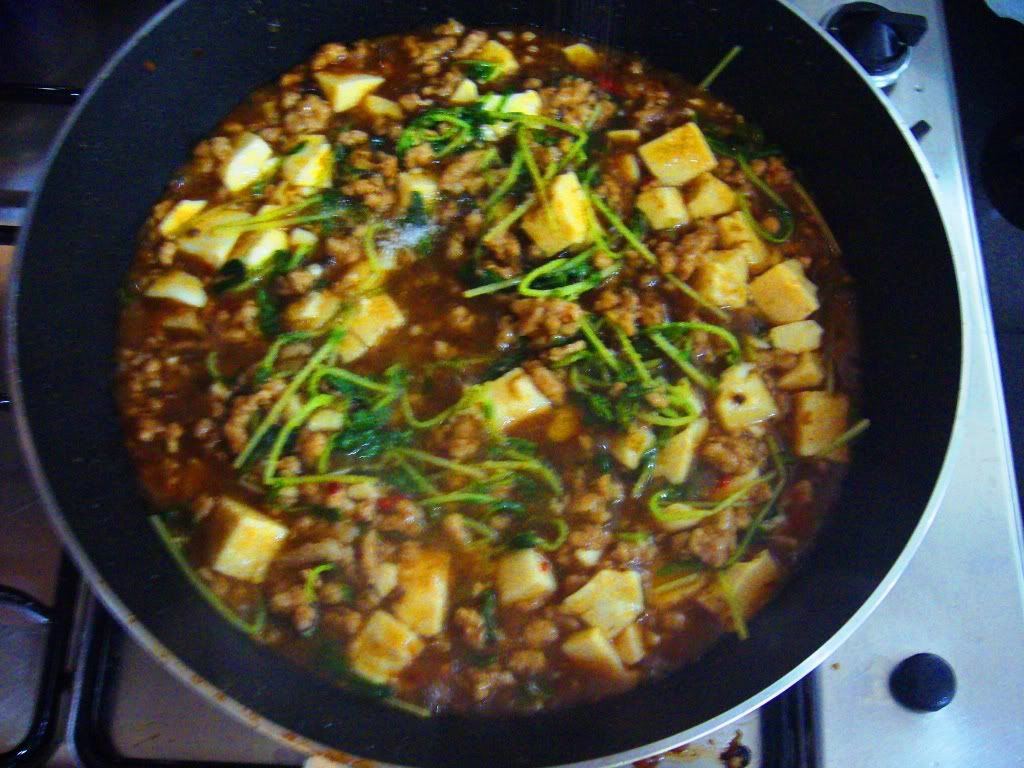 Add pepper and stir in black vinegar. Turn off heat.
Toss with noodles and serve.
My Rating: 7.5/10.