Julia Child says
the soup "is simplicity itself to make." Chop leeks and potatoes then throw them in cream, boil for an hour, mash and out comes a classic
Potage Parmentier
. It is that easy. And if you're a healthy human being between the age of 12-45 and fail at making this, you should never step into a kitchen again because you had just proven yourself to be culinarily imbecilic. I am sure
Julia
would agree with me if she is alive today. Anyhow, if you frustrate her spirit by making this inedible, she will haunt your wet dreams for the rest of your life.
The classic Potage Parmentier is too delicious for its ridiculous simplicity. Like getting laid from a hot chick just by stupidly smiling at her. It is downright easy. But I had always thought it was conspicuously lacking character, it was like Sean Connery without his beard or his Scottish accent. This was when my own variation of the Potage Parmentier was formed, it was to make life merrier. It was good enough to make me hide the recipe from everyone.
Fortunately, it is now out to the world wide web. I hope you will treat it as a cocky bastard's creation and disregard it. This will then ensure that I'll make a killing out of it when I have my own Trattoria because everyone finds it fantastically unique. If you like it, make haste and take it down, you'll never know when I'd find this post a stupid idea.
However, this recipe is no where near easy, my Potage Parmentier had violently crushed all living traces of simplicity from the original version to bloody death. Making this variation can be a sharp, bothering pain in the inside of your anus. You will need an hour of attentive cooking time, 15 mins of prep time(only if you have impeccable knife skills) and then 30 secs to realize that there's no more soup left in your bowl. It also involves vigorous whisking for periods of time.
Without further ado.
Uncle Purple's Potage
Mise en Place
serves 4
4 Starchy Potatoes, skinned
4 Leeks, leaves removed, finely chopped
200g Pancetta or Streaky Bacon, chopped
800ml Chicken Stock
1/2 stick of Butter
EVOO
White Truffle Oil or Roasted Garlic Oil
Chives
Freshly Cracked Black Pepper
-Grate or fine Julienne potatoes. Don't worry if they discolor.
-Saute Leeks and Pancetta in a soup pot until fragrant and soft. About 10 mins.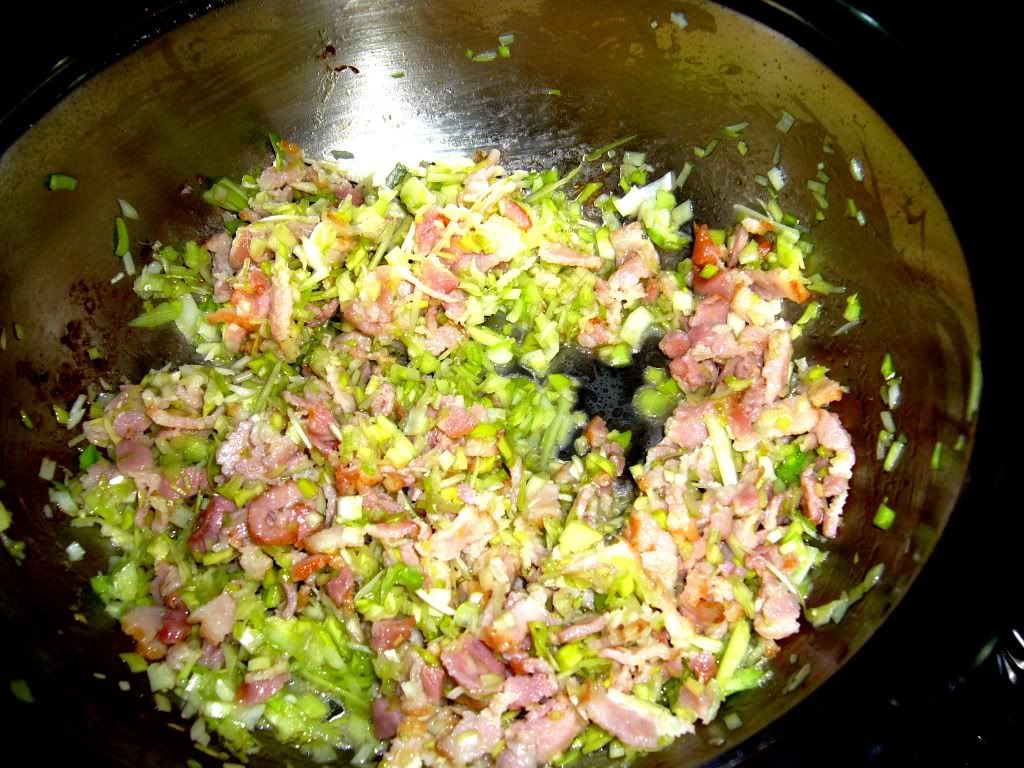 -Add in chicken stock and potatoes, turn up heat and bring to boil. Stirring occasionally.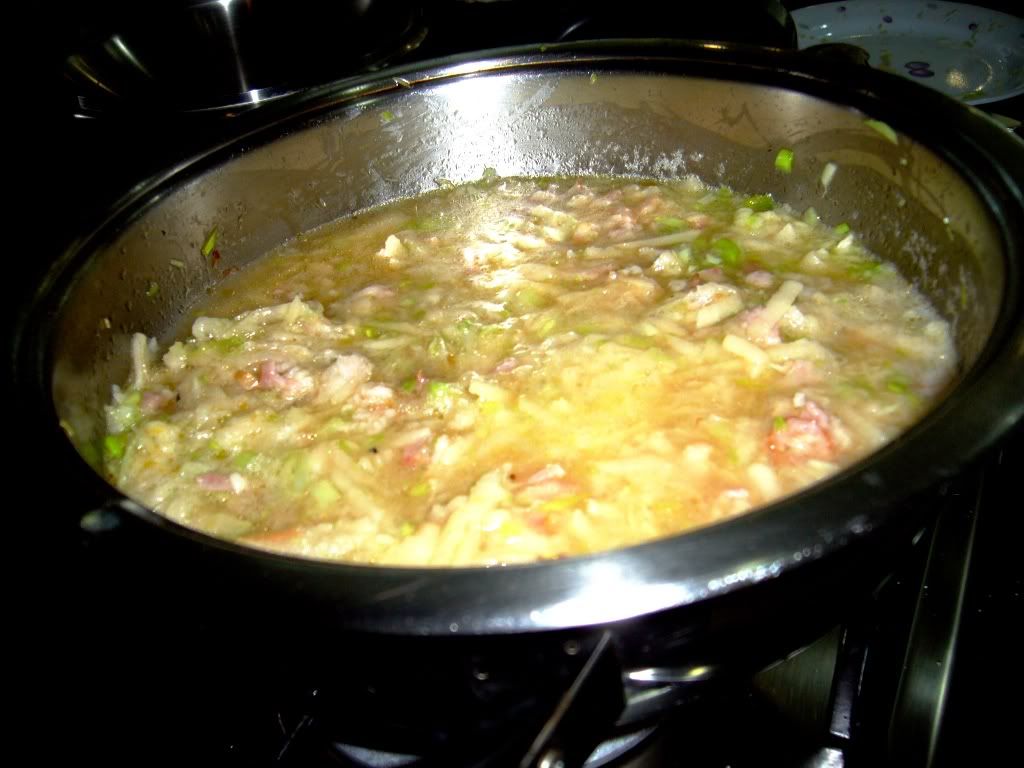 -When it boils, turn down heat to low and simmer.
Whisk every 5 mins
to ensure that nothing sticks to the bottom of the pot.
Do this for 1 hour
.
-After an hour, turn off heat and stir in butter. Add pepper. You shouldn't need any salt if you followed the recipe accordingly.
-Finely chop chives. Serve soup in bowl. Garnish with chives, truffle oil, butter and/or creme fraiche.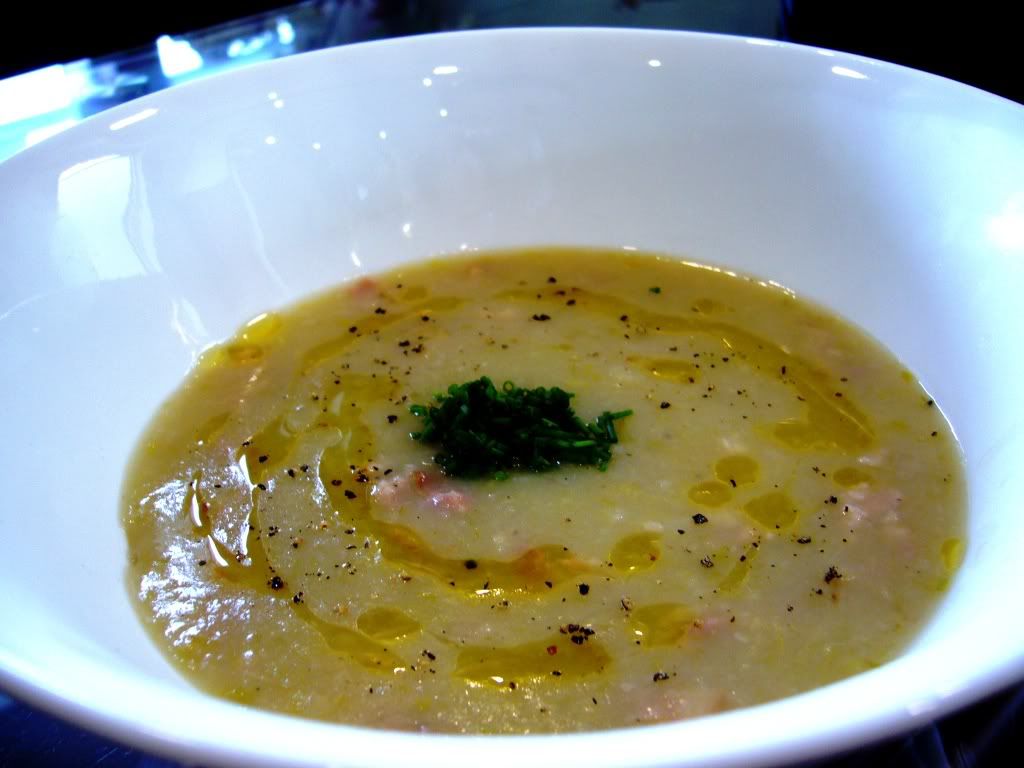 Have it with garlic Croutons or Bruschetta for an absolutely ecstatic experience. Have fun.