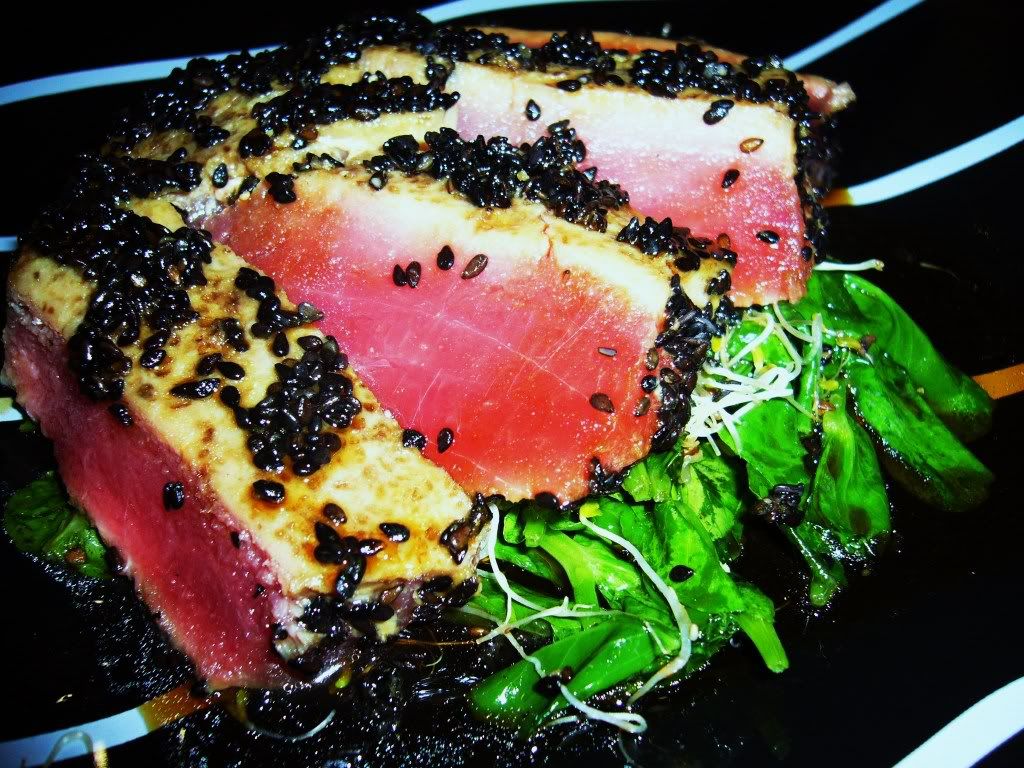 It's the Chinese New Year yet again. To the happy unmarried people who are blessed to be in a traditional Chinese family, like me, this is an occasion to get all excited about. All thanks to the ancestors who brought about the heritage that obliges wedded couples to give money to the jolly singles in exchange for their verbal blessings. Whether you think it's corny or not, it's tradition, and I'm loving it.
And when there's a festive season, there's always good food. My relatives are fantastic cooks and they make some of the best dishes the country has to offer(I'd like to think it's in the bloodline). Unfortunately, I got carried away and not a single dish photo was taken. Also, I don't have a habit of taking my camera with me wherever I go. I apologize. Because it is a great deal of information you're missing out.
With the nice amount of extra money received, I wasn't hesitant to spend it on something I really wanted to get for a long time. Fresh Tuna Steaks. It might seem like it's not much of a big deal, but it is for me because Tuna Steaks are rare in Singapore and cost a lot.
I don't know about you, but when dealing with food that's rare, expensive and flavorful, I'll try to keep it as simple as possible to accentuate it's natural taste. Initially, the plan was to turn the Tuna Steaks into Sashimi, but that is boring as hell so I did some homework and decided to adapt a recipe from the F word.
Glad I did that because it was sublime. I did not do the watercress salad because I had too much for the past few days and I can actually see them in my poop. Substituting it is a seasonal vegetable that is consumed during Chinese New Year, I don't know what it is exactly but I do know that it has nothing in relation to pea shoots. It has peppery tones with a nutty and bitter after taste. Which I think it's perfect for the dish.
Sesame Crusted Tuna with Sauteed Dou Miao
recipe adapted from
the F word
Mise en Place
Serves 4
4
Tuna Steaks
, patted dry with kitchen paper
7 Tbsp
Soy Sauce
6 Tbsp
Wasabi
, mixed with a little hot water
60g
Sesame Seeds
(I used black because white was out, feel free to use either.)
EVOO
White Pepper
100g
Dou Miao
or Watercress
40g
Alfafa Sprouts
or Bean Sprouts
Fresh Coriander
, chopped
Dressing
:
1
Garlic
Clove, peeled and crushed
1 tsp grated
Ginger
1 Tbsp
Soy Sauce
Juice of half a
Lime
1 Tbsp
Honey
3 Tbsp
Sesame Oil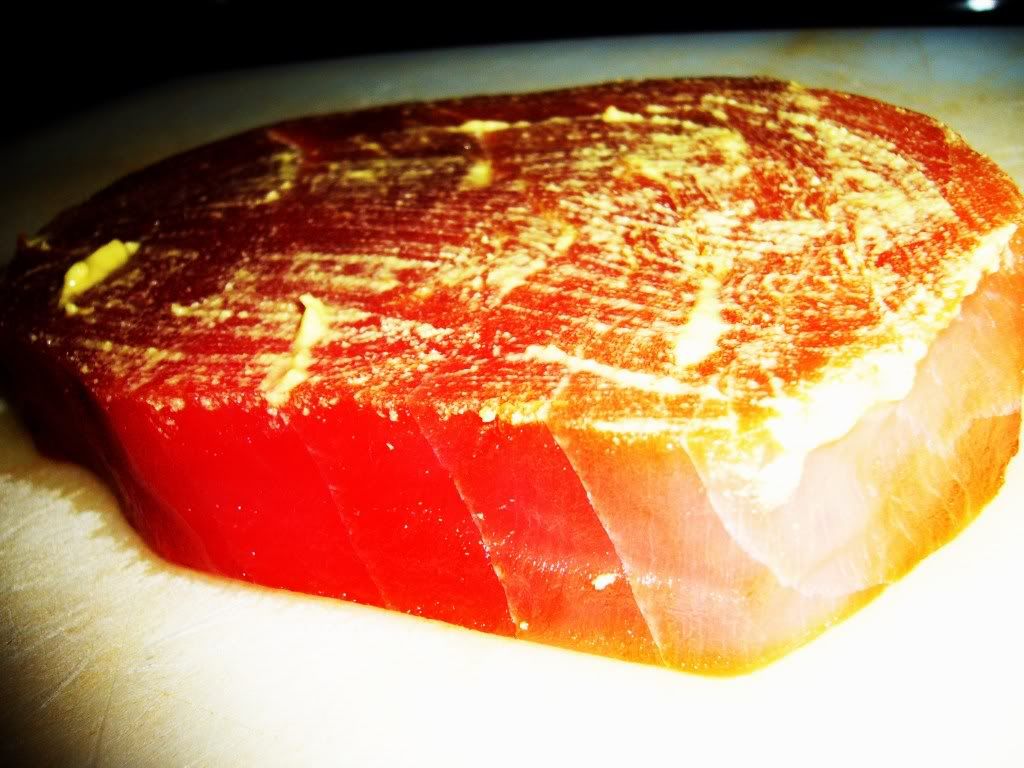 Baste
Tuna Steaks with Soy Sauce, White Pepper and Wasabi. Coat with Sesame Seeds.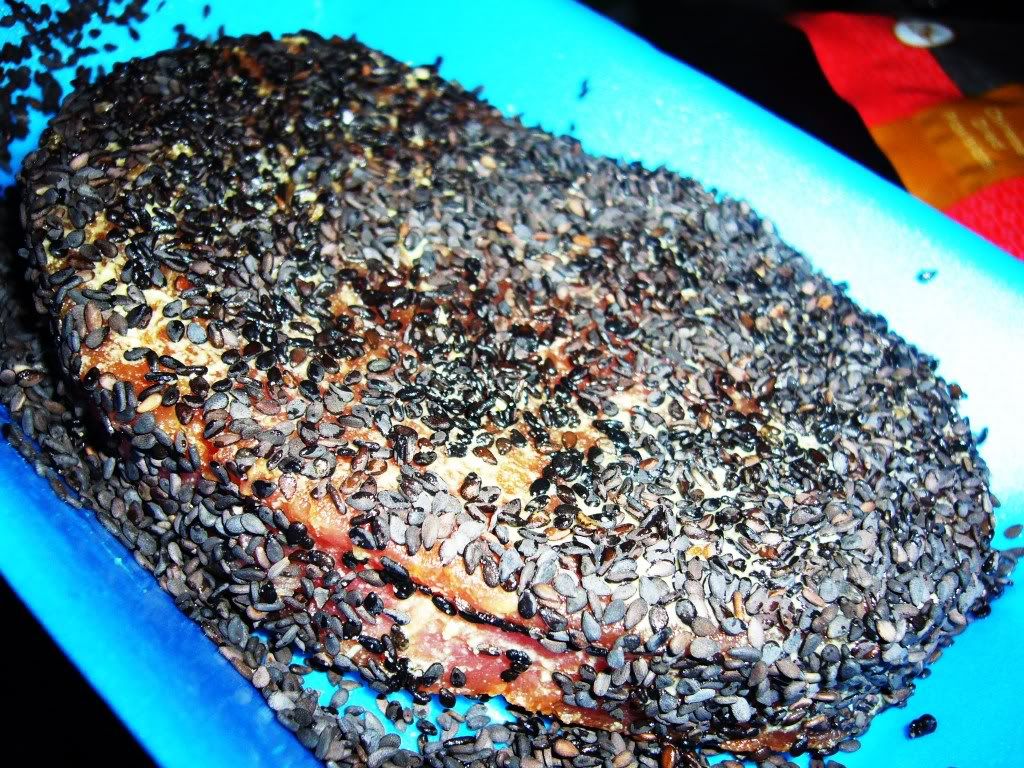 Mix
all ingredients for dressing.
Sear
Tuna Steaks 1 min a side with olive oil and allow to rest.
Get
a pan really hot and add olive oil, cook Dou Miao for 15 secs and set aside.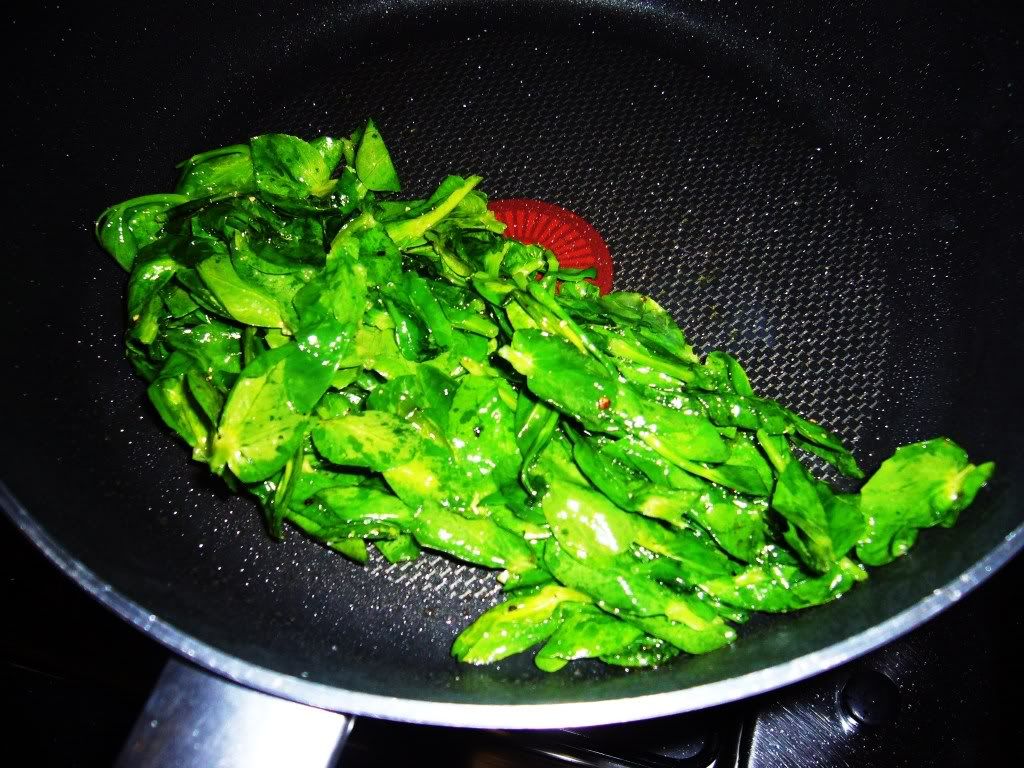 Slice
Tuna Steaks and serve them on a plate with sauteed Dou Miao and Alfafa Sprouts at the bottom. Drizzle with dressing and coriander.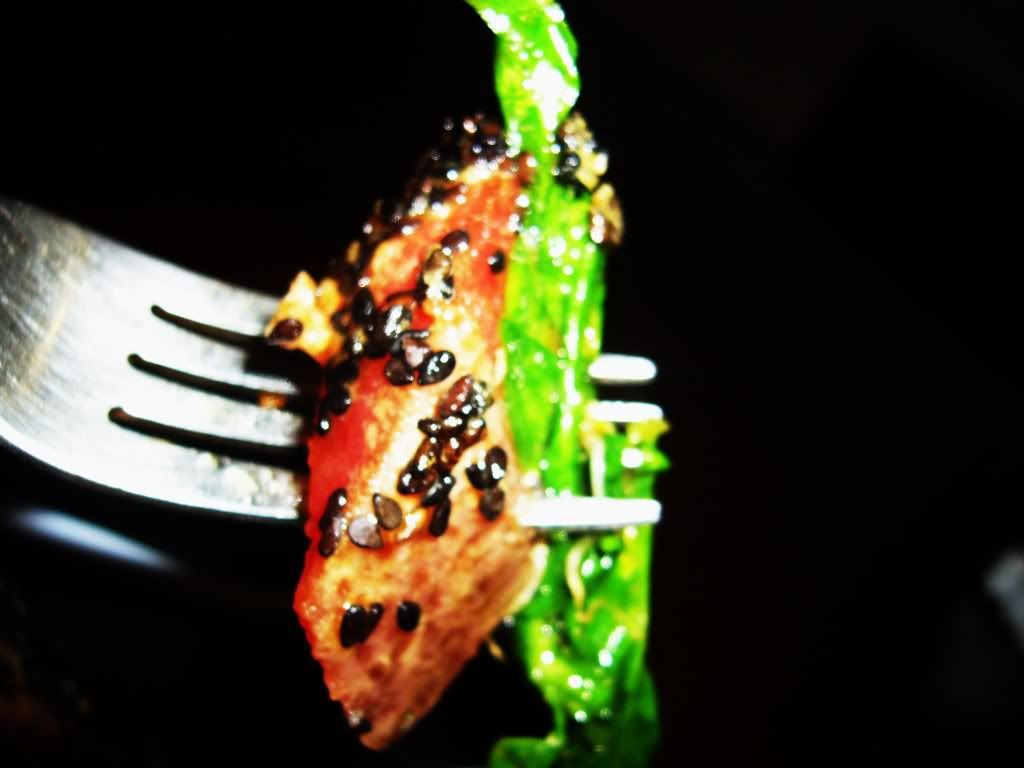 Enjoy
.