Hi, I'm back again. After two entire weeks I think, and I'm not going to give some bullshit reason for my absence to make you feel better about my less active blog. I have been lazy. Thats right. Loathe or love me, it doesn't matter.
My first start of the year had been rough. I'd been slapped with intense military exercise for most of the time. As of now, I have officially spent most of 2008 in the jungle or at the camp of overflowing testosterone. They were hard times. They were times when I could scream for a shower after days in a sweat soaked P.J-like cloth outfit, even if the shower is icy cold and if the water only drips at the complete push of a quick retracting button. They were the times when I am required to quietly hide from the enemy in a bush and unknowingly become man feast to the throngs of residing hungry forest mosquitoes and colorful biting spiders.
Most annoyingly, I had to live on bland and boring food from the military meal shack that went on the news for poisoning people. On a few occasions, I'd dream of proper food at night in the barracks and sometimes, I think about good food so much that I can't sleep. The food magazines and recipe books I used to bring to camp to maximize time, only made it worst. I swear they almost got disintegrated by the worst form of incineration that can ever be done to paper but now that I've come to my senses, I'm glad I didn't do it.
When I got home on Friday, good food was all that was needed for me to believe once again that life is actually good. The first thing that I wanted almost immediately at the point of leaving the camp was a bloody juicy and delicious piece of steak. I knew I couldn't get good steak anywhere around camp and I wouldn't pay for overpriced bullshit at the lame steakhouse near my house. I couldn't travel to fancy restaurants because I was weary and looked like shit. Right then I knew I had to get the meat from the market downstairs, cook it then let the stupid good-for-nothing domestic maid do the all the cleaning.
One thing I love about the Cold Storage Supermarket at the bottom of my condominium is that they constantly stock good beef. Not fantastic but good enough to close eyes and uplift cheeks. I got the Eye Fillet, one of the juiciest and most tender parts of beef, it costs a lot more but its worth every penny. I can afford it now thanks to FoodBuzz!
Now, here comes the recipe:
Eye Fillet of Beef with Garlic Mash, Green Beans and Chunky Red Wine Tomato Sauce
Mise en Place
serves 2
2
Large Potatoes
, skinned and cut into chunks
6 Cloves of
Garlic
, peeled, finely chop 2 cloves
1/2 Stick of
Butter
200ml
Whole Milk
400g
Roma Tomatoes
, roughly chopped or use tinned
1
Red Onion
, finely diced
3 Sprigs
Rosemary
1/2 Cup
Red Wine
3 Tbsp
Balsamico
1 Big Handful of
Green Beans
, tips removed and washed
2
Eye Fillet of Beef
Sea Salt
Freshly Cracked Black Pepper
EVOO
Grape Seed Oil
Garlic Mash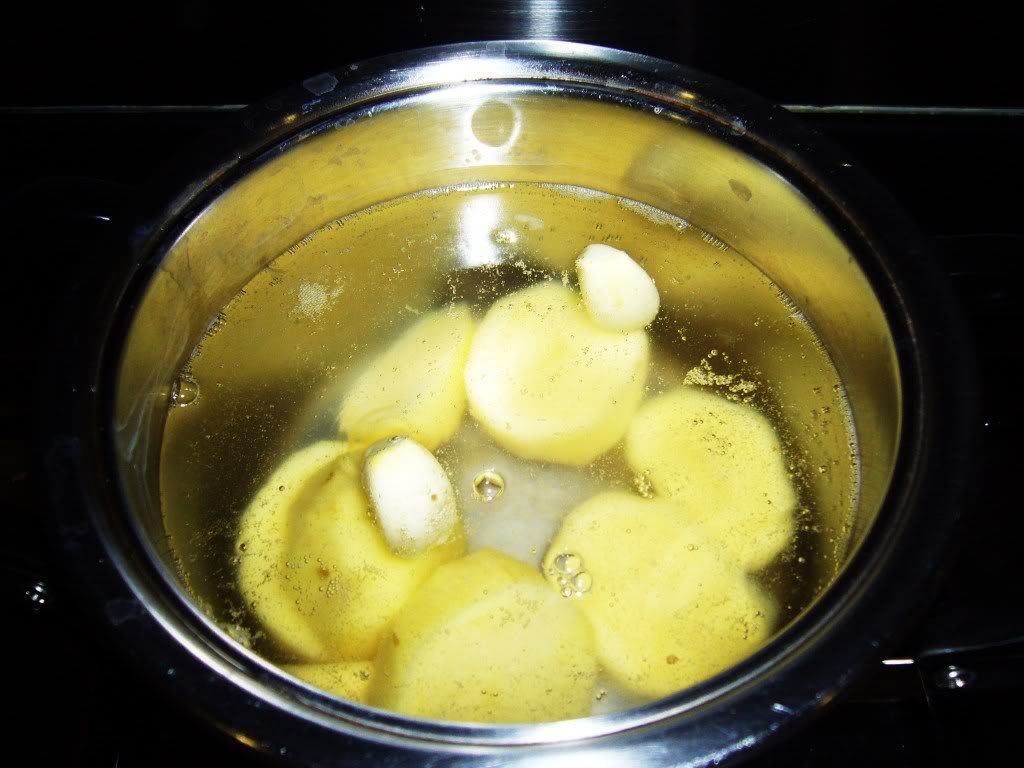 Boil
-Potatoes and whole garlic cloves in salted water until tender. Drain, mash with butter and season. Add milk and stir thoroughly.
Sauce
Saute
-Garlic and Onions in EVOO on low heat until fragrant. Add tomatoes and rosemary. Bring to simmer. Add meat deglaze(see below) and simmer until chunky. Season.
Steak
Blast heat
on stove and get a pan really hot. Season beef. Add grape seed oil to pan and sear beef at 1.5 min a side for rare, 2 for medium and 4 for well done. Allow beef to rest.
On the same pan, add wine(don't worry about the flames, just blow them out) and balsamico. Simmer until caramelized stuff at the bottom of pan is gone. This is the deglaze you add to your sauce.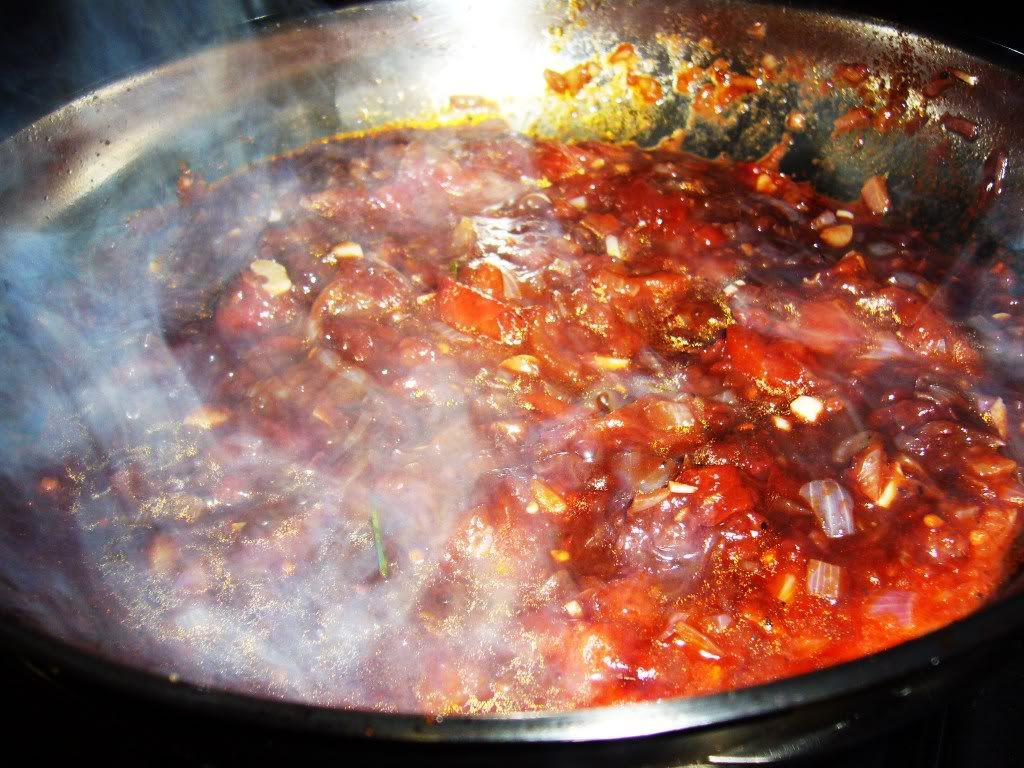 Beans
Poach
beans for 1 min in salted boiling water. Drain.
To serve, ladle sauce on plate and smear. Top with mash and beans on top. Lay beef. Enjoy.