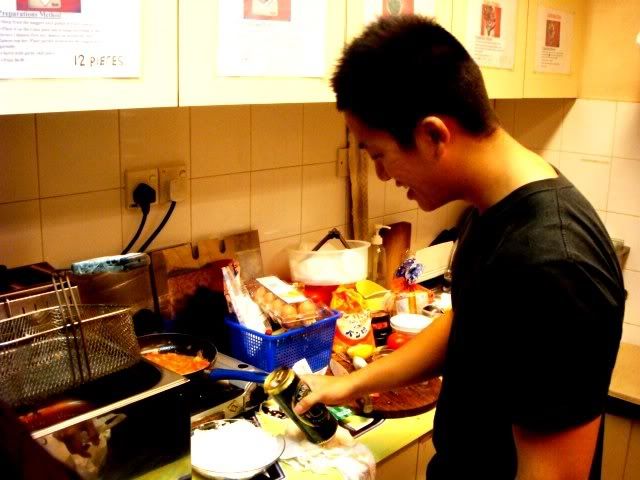 Imagine you're strolling in a mall, it was a hot day and you're enjoying the air conditioning, a bird suddenly flies through the entrance and drops a glob of slimy wad on your nose and it splashes into your eyes and your hair and your 300 dollar Oakley shades while missing everyone and everything else in proximity. Then it makes a u-turn and flies out of the door.
If you are in touch with that emotion somehow, you will totally understand what I've been going through.
Hello foodies and curious people of all belly sizes. Life plays tricks on us. One day you get a vicious nightmare and you self-assured that it was just a dream, the next thing you know, your nightmare turns into reality, the unexpected happens and you find yourself drowning into a pool of melancholic inebriety.
I was in a situation which could be only described as "a recurring series of anomalous adversities" or in simpler words, "getting trapped in a bag full of shit." My mind was occupied by insecurities and the flow of my creativity was blocked. My vial of Mojo had suddenly disappeared. Poop was slapping on my face repeatedly through a tennis ball mortar. Riding the low wave has always been believed to be a pretty common and healthy thing, but there was something that gave me a fearful jitter,
I couldn't get myself to cook
. Hence, the lack of recent posts.
Fortunately, I am starting to pick things up once again, thanks to the atrocious food that my domestic maidservant expects me to dig into. A viral infection has got the better of me for the past two days, my tonsils swelled to the size of me testies, my face so pale it made me looked like I had goth make up. I was too weak to cook or eat out, I had to eat the maidservant's cooking. It was then that I realized life was suffering, so why suffer more with shitty food?
Last Sunday, I was told to make dinner. I had no ideas and I could not come out with one. So I adapted a recipe from Classic E`CCO, Confit of Duck with Crisp Pancetta, Wilted Ruby Chard and Truffled Polenta. It was my first time having Polenta and honestly and I didn't quite like it, even though its truffled. The confit, pancetta and greens were enjoyable.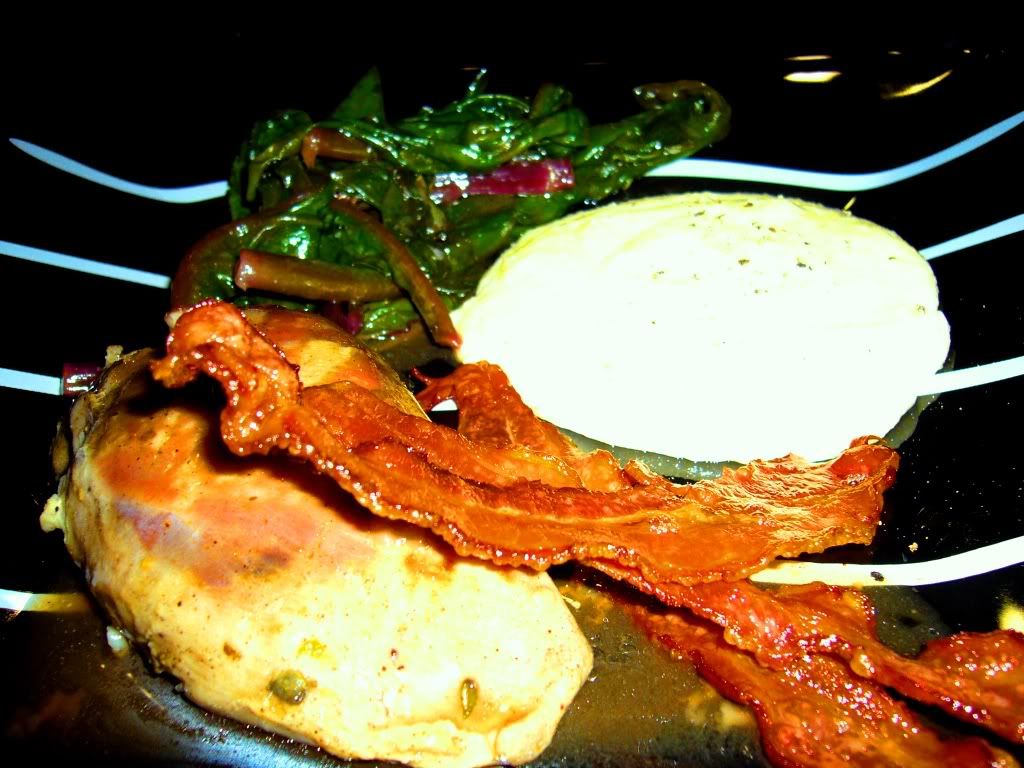 Confit of Duck with Crisp Pancetta
, Wilted Ruby Chard and Truffled Polenta
Adapted from
Classic E`CCO by Philip Johnson
serves 6
Confit of Duck
6 Thigh-Leg Duck Portions
1 Tbsp Orange Zest
1 Tbsp Lemon Zest
1 Tbsp Five Spice Powder
2 Sprigs of Thyme
5 Cloves of Garlic, Chopped
Sea Salt
Duck Fat or Light Olive Oil
Marinate duck portions with aromatics and a generous amount of salt in the refrigerator for 24 hours.
Rinse off all aromatics and salt in a bowl of cold water.
Preheat Oven to 130C.
Put duck portions in a casserole and cover with hot fat.
Cook for 2-2.5 hours or until tender.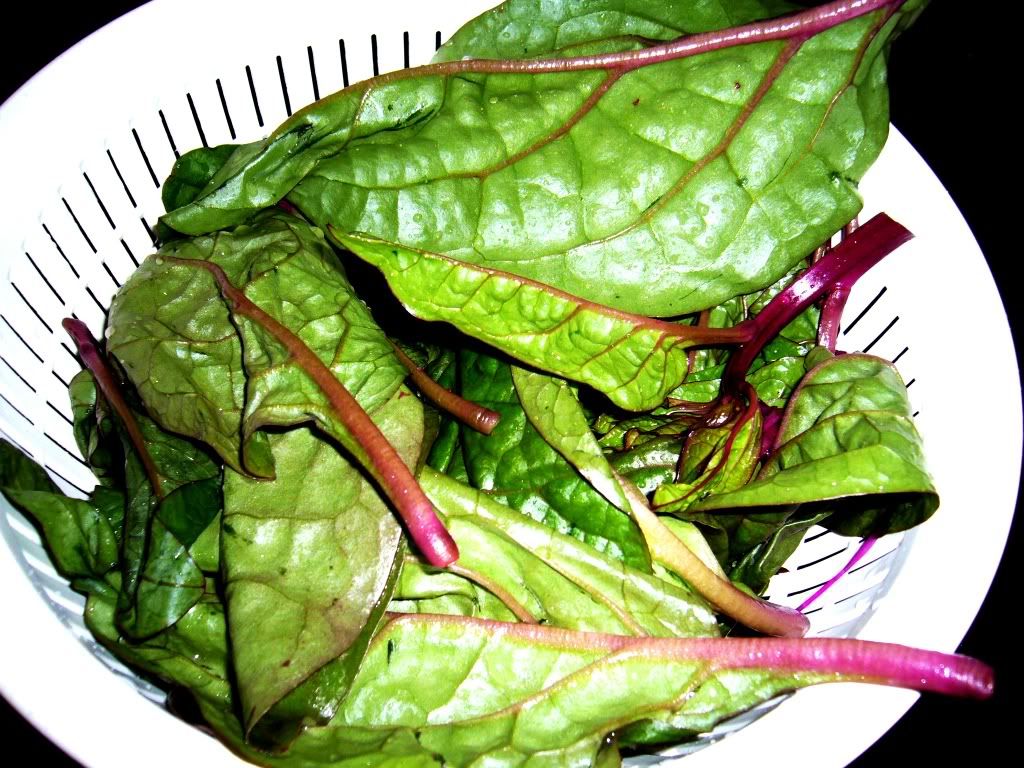 Wilted Chard
150g Ruby Chard
3 Cloves of Garlic
Juice from 1/2 a Lemon
EVOO
Sea Salt and Black Pepper
Saute garlic in EVOO until fragrant but do not brown.
Cook chard until wilted. Season and squeeze in L.J.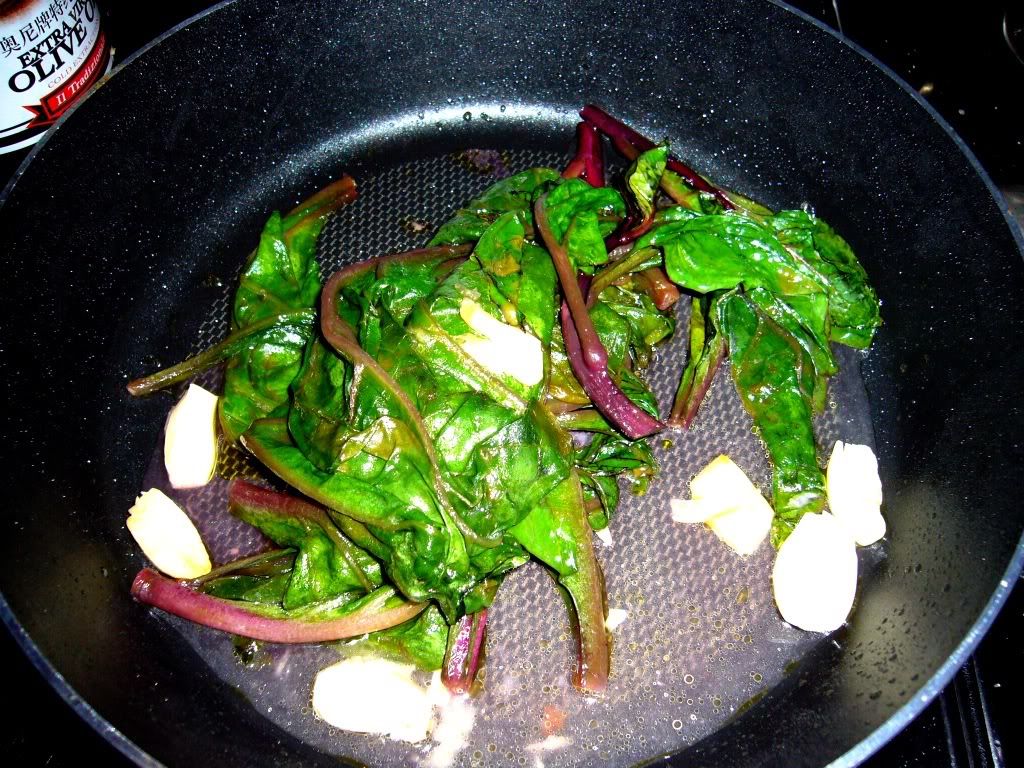 Crisp Pancetta
12 Slices of Pancetta or Streaky Bacon
Grill under a broiler for 5-6mins or until crisp.
Truffled Polenta
130g Polenta
1 Litre Milk
1/2 Onion, Chopped
3 Sprigs of Thyme
1 Sprig of Rosemary
4 Garlic Cloves, Halfed
60g Freshly Grated Parmesan
1 Tbsp Unsalted Butter
Sea Salt and Black Pepper
Truffle Oil
Put onion, thyme, rosemary, garlic and milk in a saucepan and heat until almost boiling.
Strain infused milk and stir in polenta. Bring to a boil and simmer for 20-30mins, whisking it occasionally.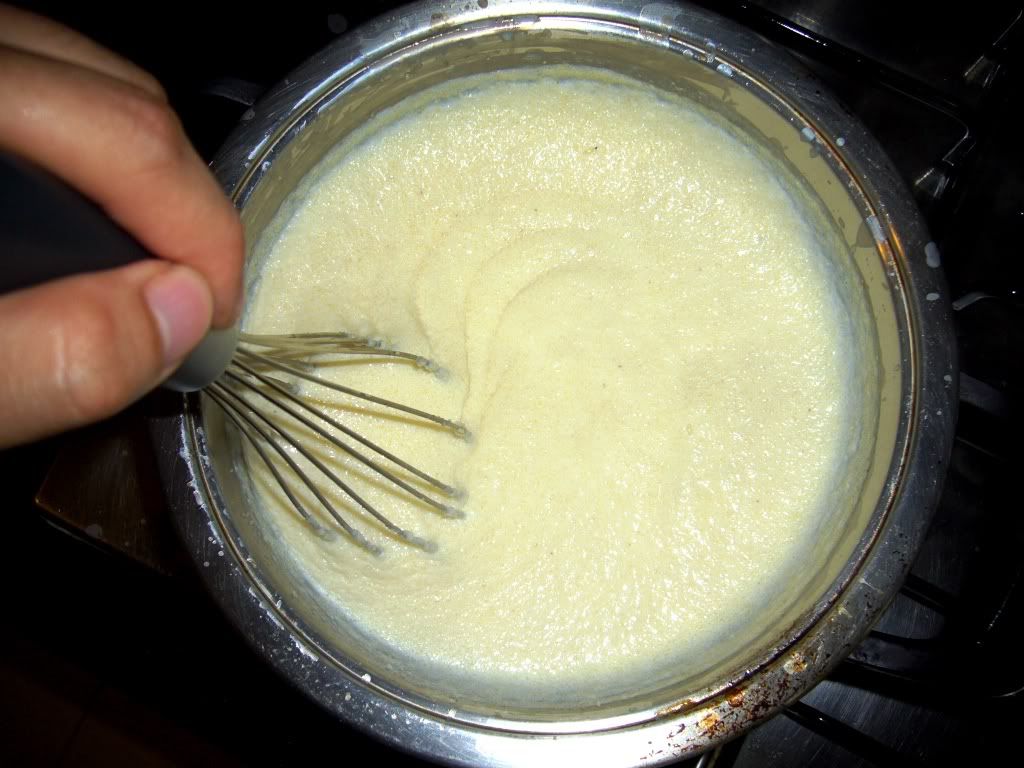 Stir in butter, parmesan, truffle oil and season before serving.