I was market strolling again. That happens for three reasons. One, I feel the need to help clueless hot women fix their dinner. Two, the overtly obvious, getting something I've already planned to cook. It was none of those today.
Call me eccentric, but every once in awhile, I give myself weird tests to gauge my culinary proficiency. One of which leads to the third reason, the "Hitting the Beggar's Orgasm Test". It was a test of my ability to make cheap ingredients spectacular. I'd set a budget of $2.50/pax(which is what a beggar would pay) then throw myself into the market to search for a good dinner.
There had been four past attempts so far and the results were nothing out of the ordinary. My last attempt was a month ago, a bell pepper and bean salad. It tasted okay but I was definitely expecting more. I didn't want to think my style of cooking was cost dependent, but I was afraid that was so. As I've momentarily realized, holding my money back on food wasn't my usual practice. The truth was saddening. That wasn't the chef I had aspired to be in mind. I had to hit the beggar's orgasm.
Today's a month away from that day. Just last night, I soaked up a huge chunk of information on Vietnamese food. It was invaluable, all these was new to me, the flavor combinations were out of this world, tonnes of ideas filled my mind. I was fired up and ready to explore the new planet of Vietnamese flavors. But deep inside me, I wanted to test myself again, I wanted to see if anything changed at all.
And it happened again, the quest to hit the beggar's orgasm. I strolled down the fruit aisle, pomegranates were in season! $2.30 each, it was stupid, I still have half of one in my fridge. I strolled down the vegetable isle, nothing interesting. Meat isle, too expensive. Seafood isle, mussels were going at $1.22 for a tray but I had too much of those over the last weekend. Misc Aisle, tofu and pre-made noodles, I wanted to get tofu because it was cheap and versatile. I was bending down to pick up the tofu when lights went out and streaks of lightning struck before me, rays of light shine to my point of view, ninja smoke fills my vision, angels come down with trumpets, rainbow unicorns glide above, smoke clears to reveal..
TEMPEH
.. 4 for $1.20.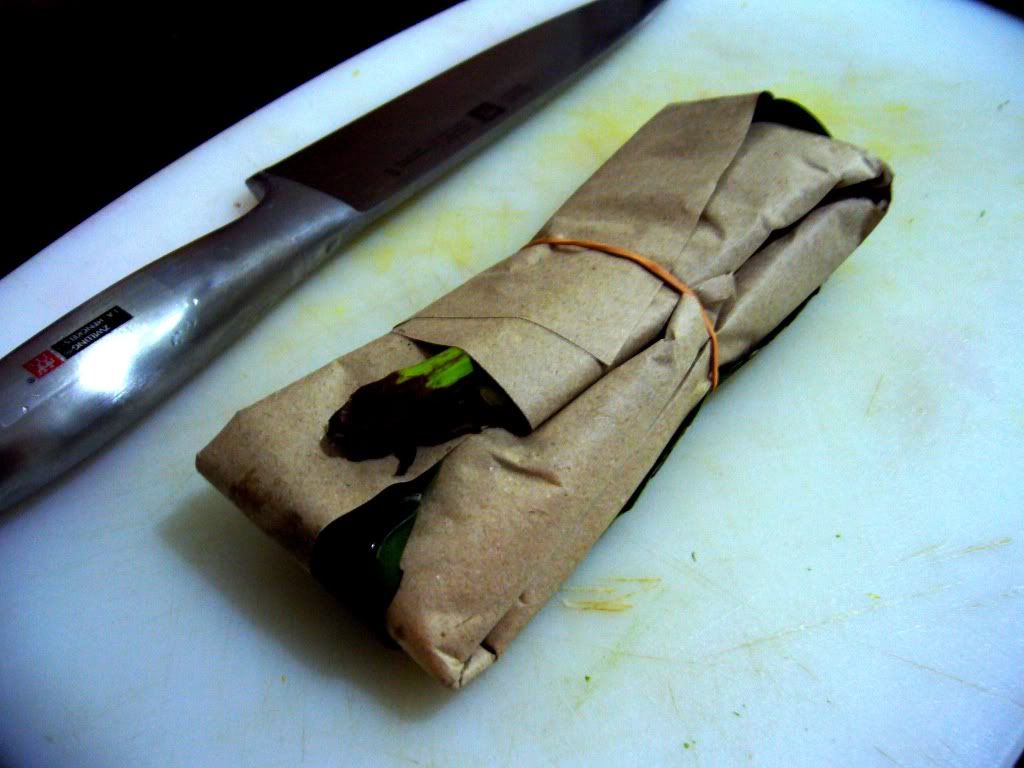 Tempeh
is traditionally wrapped in a huge ass banana leaf and packaged into mysterious bundles as you can see. It exudes a nutty-mushroomy aroma and has a texture like solidified chewing gum. It is an acquired taste but I'm sure if you like soybeans you'd like this one too.
Raw Tempeh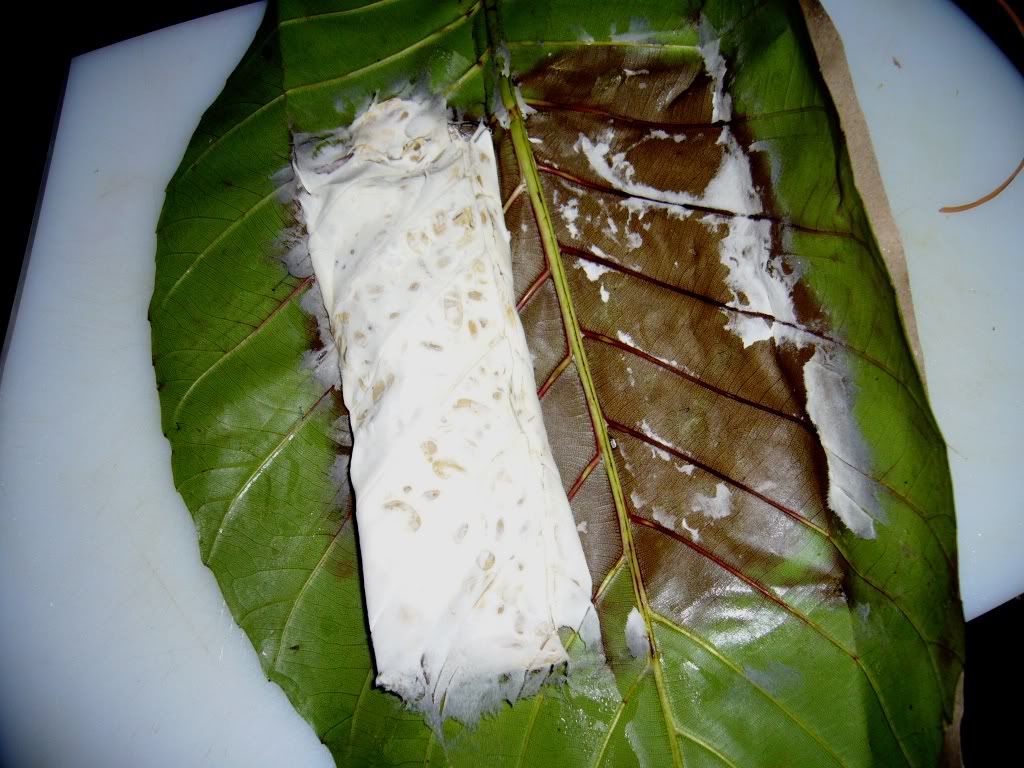 So the tempeh was $1.20. I also bought the following items:
1 Orange $0.40
1 Lemon $0.50
1 Bunch of Watercress $1.30
1 Japanese Cucumber $0.85
Mint Leaves $1.95
It adds up to $6.20. This is for 4 persons. The exact budget for 4 persons would be $10. I leave $3.80 for the cost of 1Tbsp of Fish Sauce, 1 Red Onion, 2Tbsp EVOO, 1Tbsp White Wine Vinegar, 2Tbsp of Sugar, Salt and Pepper which I already have in the kitchen. $3.80 is more than enough for these. Budget met.
It was a recipe I came up in the market, there are no papers, no book, no web page, I had to focus. A good hour in the kitchen passed, I plated the dish, ready to eat. I placed a forkful in my mouth,
and DAMN! It's good. I proved myself wrong, the test was finally blog-worthy, I hit the beggar's orgasm.
Now you try it.
Salad of Tempeh, Kyuri and Watercress with Orange and Mint Compote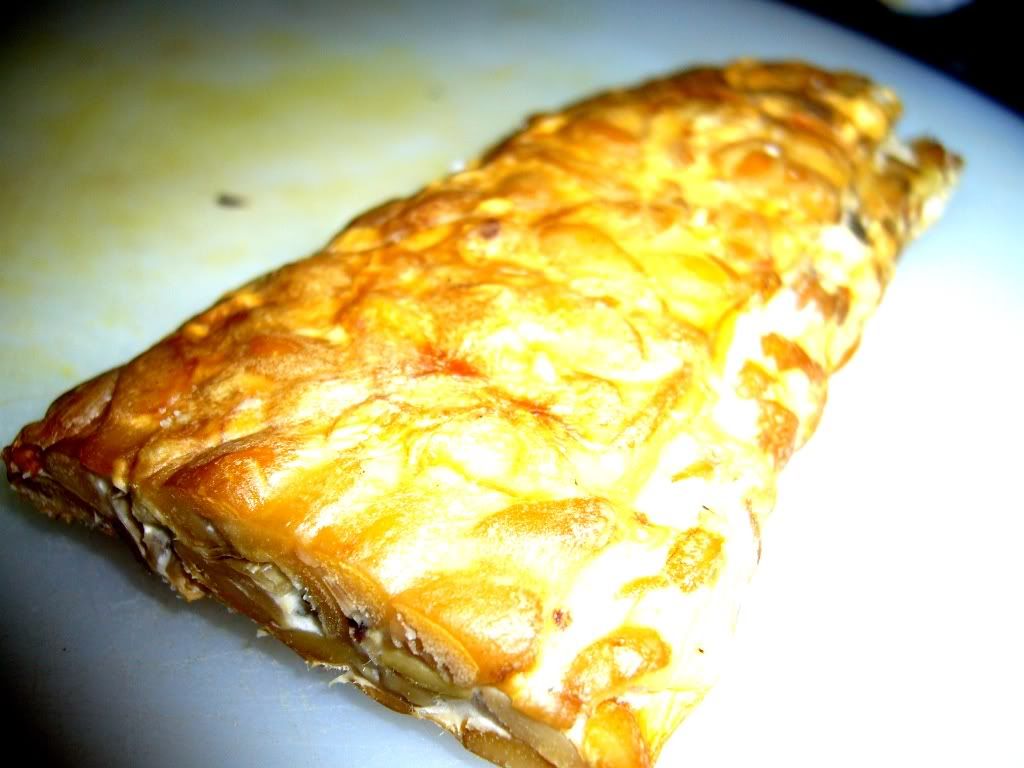 Roasted Tempeh
4 Tempehs
1 Tbsp EVOO
Sea Salt
- Preheat Oven 175C.
- Rub tempehs thinly with EVOO and salt.
- Roast in oven for 30mins.
- Slice.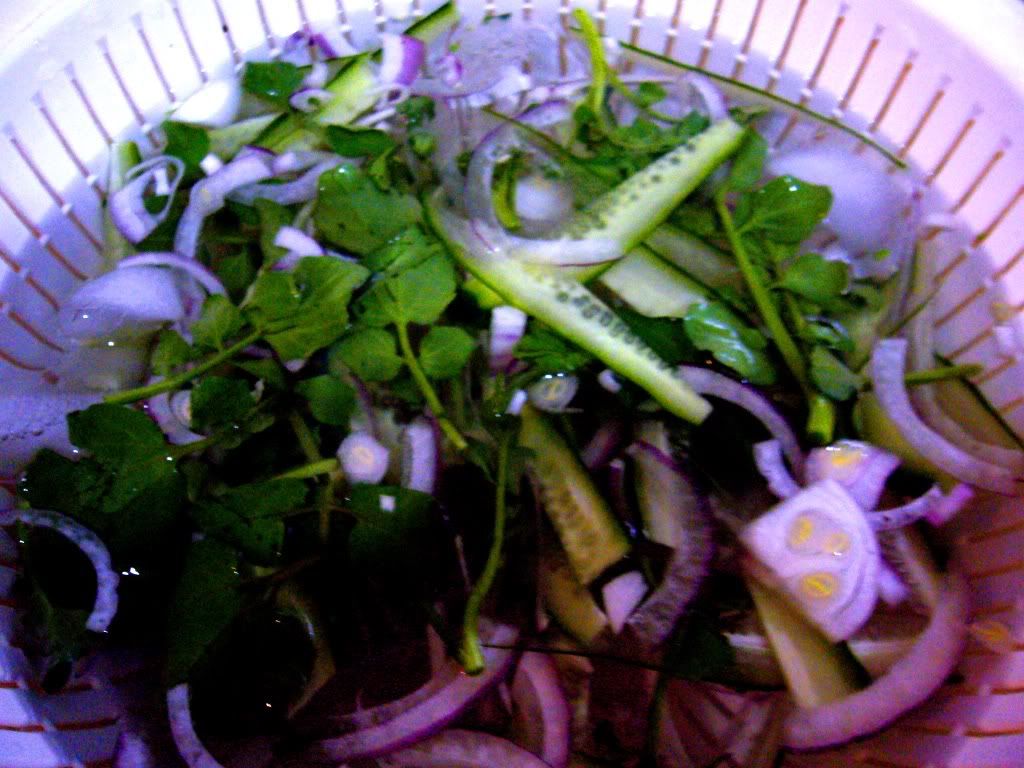 Salad
1 Kyuri, thinly sliced
1 Bunch of Watercress
1 Red Onion, thinly sliced
1 Tbsp EVOO
1 Tbsp White Wine vinegar
Sea Salt and Pepper
- Mix everything together.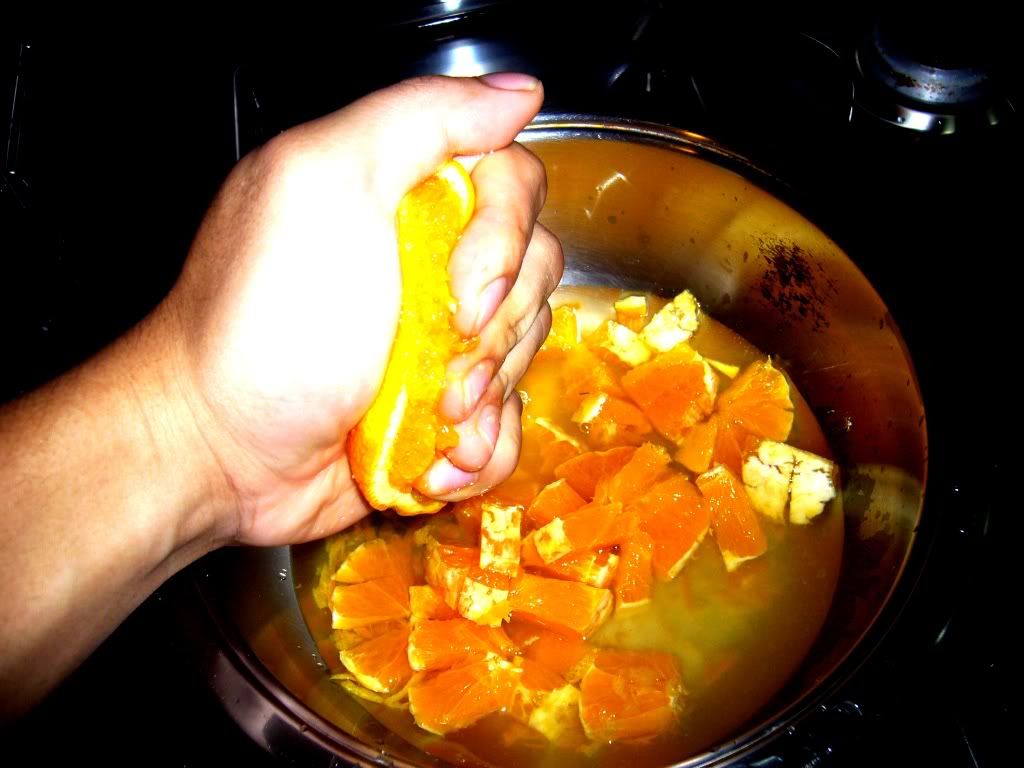 Orange Compote
1 Orange, peeled and chopped, seeds removed
100ml Water
2 Tbsp Sugar
1 Tbsp Chopped Fresh Mint
1 Tbsp Fish Sauce
- Put a saucepan on medium-low, dissolve sugar in water.
- Add Oranges and bring to a boil.
- Simmer on low, for 45mins or until sticky.
- Off heat, let it cool. Stir in mint and fish sauce.
P.S Ignore the pomegranate seeds. They don't add flavor to the dish, just colors.